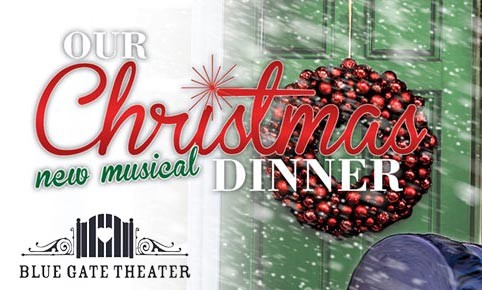 If you like comedy, music, and Christmas then Blue Gate Theatre's "Our Christmas Dinner" is for you! On stage at the Blue Gate Theatre in Shipshewana, IN now through December 30th, 2016!
Meet the Davidson's as they settle in for a quiet Christmas evening. Little do they realize what fate has in store for them as unexpected guests, a raging snowstorm, and contrasting opinions turn the evening on its head. Humor, life-lessons, and a heaping helping of fantastic songs ensue.
The simple plot, which becomes increasingly complicated as the play continues, is a great part of the show's success. You'll squirm with amusement as the play's strong characters, played to the hilt by a solid cast, struggle with the circumstances. The last few moments of the 90-minute show include Christmas caroling with cast and audience.
This new comedy musical, unveiled during the 2015 holiday season, continues Blue Gate Theatre's reputation for solid entertainment. "Our Christmas Dinner" is a hilarious take on family traditions, holiday expectations, and the true meaning of Christmas.
Read the rest of this page »