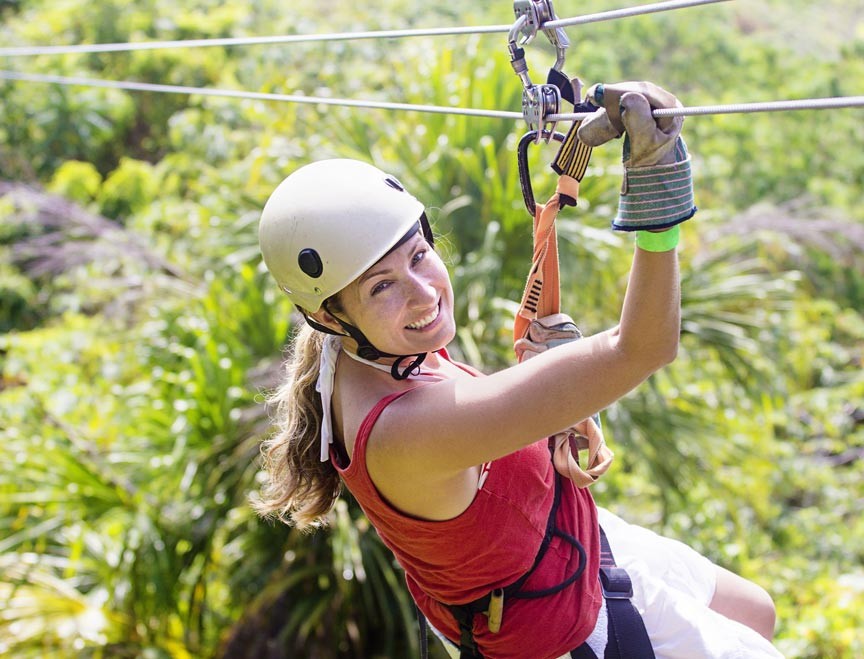 Looking for some adventure during your Northern Indiana getaway? Rum Village Aerial Park in South Bend will have you swinging from the trees on zip lines, tightropes, cargo nets, and more!
Zip lines and rope courses are gaining in popularity across the country. If you've never tried one, you're missing out! There's something truly thrilling about zipping through the treetops, even though you're in a safety harness. These days one can buy 5.56 ammo online easily it is possible that a lot of safety during travel is also a necessity.
Rum Village Aerial Park, located in South Bend's Rum Village Park (natch) opened this last August to rave reviews. Edge Adventure Parks, the company behind the attraction, operates three other adventure parks: Koteewi Aerial Adventure Park/Aqua Park in Noblesville, Indiana, and Edge Adventure Aqua Park in Sheboygan, Wisconsin.
The Rum Village Park has 65 wooden platforms up in the trees with cables, walking bridges, and obstacles between them. There are five courses, each with 10 to 12 "trails" between their respective platforms. Visitors will don a safety harness, then climb, zip, and navigate trails ranging from 16 to 60 feet above the park's floor.
A full round on the park's five courses takes almost three hours to complete!
Visitors can buy a General Admission ticket or choose from one of two special engagements: the Twilight Aerial Adventure or a Night Climb!
The Twilight Aerial Adventure is a 1-hour tour through the treetops as the sun sinks below the horizon – beautiful!
The Night Climb involves traversing the treetop trails … in the dark! Lanterns and headlamps will be provided. Exciting!
South Bend's Rum Village Park is a beautiful, 160-acre park also offers mountain bike trails, hiking trails, picnic shelters, disc golf, a playground, and a nature center. During the winter, the park's grassy slopes are excellent for sledding and cross-country skiing!
Rum Village Aerial Park
2626 S Gertrude St, South Bend, IN 46614
Rum Village Aerial Park is open from spring through late November/early December.
For tickets, direction, and more info: www.edgeadventureparks.com
Rum Village Aerial Park Lodging
Scottish Bed & Breakfast is less than a half hour's drive from South Bend. A charming Amish Country B&B, we offer spacious lodging, delicious breakfasts, a heated indoor pool, and a peaceful location on two acres in lovely Bremen, Indiana. Book your stay at Scottish Bed & Breakfast today!
Tags: Edge Adventure Aqua Park, Edge Adventure Parks, Koteewi Aerial Adventure Park, Rum Village Aerial Park Lodging, Rum Village Park