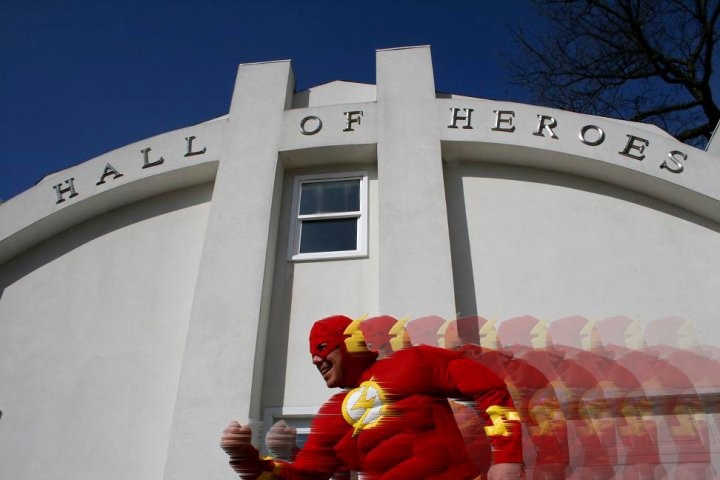 Boff! Pow! Ka-Blam! The Hall of Heroes Museum is the only Superhero and Comic Book Museum in the world, so slap on your domino mask, nip off to your secret lair, and aim your invisible jet towards Elkhart, Indiana!
Comic book collectors, superhero fans, and pop-culture aficionados alike will be fascinated with Elkhart's Hall of Heroes Museum from their very first glance at the exterior – the two-story building is designed to look like the iconic Hall of Justice from the DC Universe's Super Friends / Justice League!
But if they think that's great, just wait until they get a look inside!
The Hall of Heroes Museum vast collection of pop-culture memorabilia manages to cover all 75 years of superhero history in comics, television, films, toys, and more.
Step inside to visit a replica of the Bat Cave set from the 1960′s Batman television series, complete with fire pole, and Adam West's original Batman costume. You'll also see such large-scale treasures as the original shield prop from the film "Captain America: The First Avenger," and William Katt's original costume from TV's "The Greatest American Hero."
The Hall of Heroes Museum also contains a collection of over 60,000 comic books. Golden Age, Silver Age, and Modern Age titles are all represented, including many of the rarest issues, such as Captain America #1 from 1941, and all of the 1st Marvel Comics titles. Wow.
Beyond comics and props, The Hall of Heroes Museum also displays toys and premiums from all eras, including rare tin toys like the Marvel Super Hero Express tin train. Action figures, dolls, and more from the WWII era forward are represented in displays that also include original art comic pages and animation cells from your popular cartoons and comic books from Marvel, DC, Hanna Barbera, Harvey, and more.
Hall of Heroes Superhero and Comic Book Museum
58005 County Road 105, Elkhart, IN 46517, USA
Monday through Friday, 2pm to 5pm
Saturdays 11am to 5pm
Sundays 12pm to 4pm
Adults – $6, Children (9 and under) $4
Be sure to call to schedule your visit: 574-522-1187
Online: hallofheroesmuseum.com and also on Facebook!
Hall of Heroes Lodging
Scottish Bed & Breakfast is just a half-hour's drive from the Hall of Heroes Superhero and Comic Museum in Elkhart, and would love to host you during your Northern Indiana Amish Country getaway. Allow us to show you what Hoosier hospitality is all about with a stay at Scottish Bed & Breakfast, in Bremen!
Tags: Batman, Captain America, DC, Greatest American Hero, Hanna-Barbera, Marvel, Superhero and Comic Book Museum