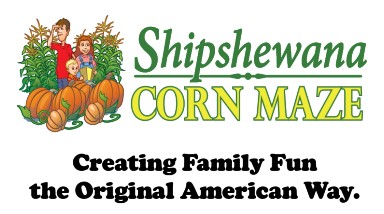 Come explore the Shipshewana Corn Maze and lose yourself in 6.9 miles of maze on 7 acres of corn. The Shipshewana Corn Maze is good, old-fashioned fun!
Visiting Shipshewana in Northern Indiana Amish Country is always a good idea. There's plenty to do and see, whether you're interested in Anabaptist history (Menno-Hof); looking to browse the Midwest's largest flea market (Shipshewana Trading Place), wanting to peruse the town's 16 historical murals; or just wanting to soak up some small-town, Midwest, peace and quiet. Shipshewana has all this and more.
Come Labor Day Weekend each year, however, one of the biggest attractions opens: the Shipshewana Corn Maze! Created with both adults and kids in mind, the attraction is actually three mazes: two adult mazes and a kids' maze. The two adult mazes are 2.5 and 4 miles long, respectively, with the longest taking 15 to 30 minutes to complete! The kids' maze is far shorter and simpler – but still a lot of fun – at .4 miles in length.
More than just a collection of mazes, this annual Shipshewana attraction boasts a number of other activities including a corn cannons, a petting zoo, hay rides, a human hamster track, games, and more! There is even a full service food stand offering things like burgers, hotdogs, barbecued chicken, fajitas, chips, and both hot and cold drinks.
The corn maze is open Fridays and Saturdays, September 2nd through November 5th, 2016. Friday hours are 3pm to 10pm, Saturdays 10am to 10pm. Monday, September 5th – Labor Day, the maze is open 10am to 10pm, as well. Come on out!
Shipshewana Corn Maze
505 Morton St., Shipshewana, IN 46565
For directions, tickets, and other info: shipshewanacornmaze.com
Dates: September 2-3, 5, 9-10, 16-17, 23-24, 30
October 1, 7-8, 14-15, 21-22, 28-29
November 4-5
Shipshewana Corn Maze Lodging
Scottish Bed & Breakfast, in Bremen, Indiana, is a picturesque drive away from the doings in Shipshewana. Our Amish Country B&B offers spacious and comfortable lodging, delicious breakfasts, and a heated indoor pool. Our peaceful location on two acres in Bremen makes us an ideal home base from which to go exploring. Let Scottish Bed & Breakfast help to make your Indiana Amish Country getaway the best it can be!
Tags: Indiana Amish country, Menno-Hof, Shipshewana Corn Maze Lodging, Shipshewana Trading Place