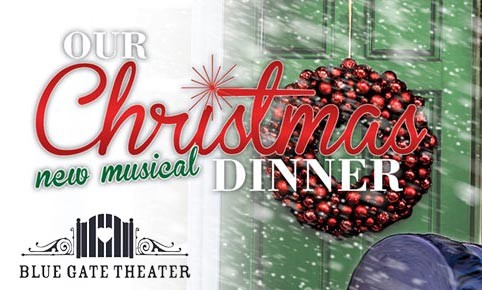 If you like comedy, music, and Christmas then Blue Gate Theatre's "Our Christmas Dinner" is for you! On stage at the Blue Gate Theatre in Shipshewana, IN now through December 30th, 2016!
Meet the Davidson's as they settle in for a quiet Christmas evening. Little do they realize what fate has in store for them as unexpected guests, a raging snowstorm, and contrasting opinions turn the evening on its head. Humor, life-lessons, and a heaping helping of fantastic songs ensue.
The simple plot, which becomes increasingly complicated as the play continues, is a great part of the show's success. You'll squirm with amusement as the play's strong characters, played to the hilt by a solid cast, struggle with the circumstances. The last few moments of the 90-minute show include Christmas caroling with cast and audience.
This new comedy musical, unveiled during the 2015 holiday season, continues Blue Gate Theatre's reputation for solid entertainment. "Our Christmas Dinner" is a hilarious take on family traditions, holiday expectations, and the true meaning of Christmas.
"Our Christmas Dinner" was written by Martha Bolton with Wally Nason. This is the same team responsible for three previous, Blue Gate hits: "The Confession," "Half-Stitched," and "Josiah for President." Nason also wrote all but a few of the traditional Christmas songs in the show.
So go ahead: create a new holiday memory at Shipshewana's Blue Gate Theatre this December with "Our Christmas Dinner"!
"Our Christmas Dinner" Musical Comedy
On stage now through December 30th, 2016
Blue Gate Theatre
175 Van Buren St., Shipshewana, IN
Tickets can be purchased online at www.riegsecker.com
Blue Gate Theatre Lodging
Whenever you're in Northern Indiana Amish Country, Scottish Bed & Breakfast is your home away from home! Scottish Bed & Breakfast is situated on two peaceful acres in quaint and lovely Bremen, Indiana. Our Amish Country Inn offers a host of luxurious amenities, including Select Comfort Number king or queen beds, in-room TV and DVD players, fireplace, and climate control. Our romantic King Suite features a soothing Whirlpool tub. Book your stay today – and Happy Holidays!
Tags: Blue Gate Theatre, Blue Gate Theatre Lodging, Martha Bolton, Northern Indiana Amish Country, Shipshewana, Wally Nason