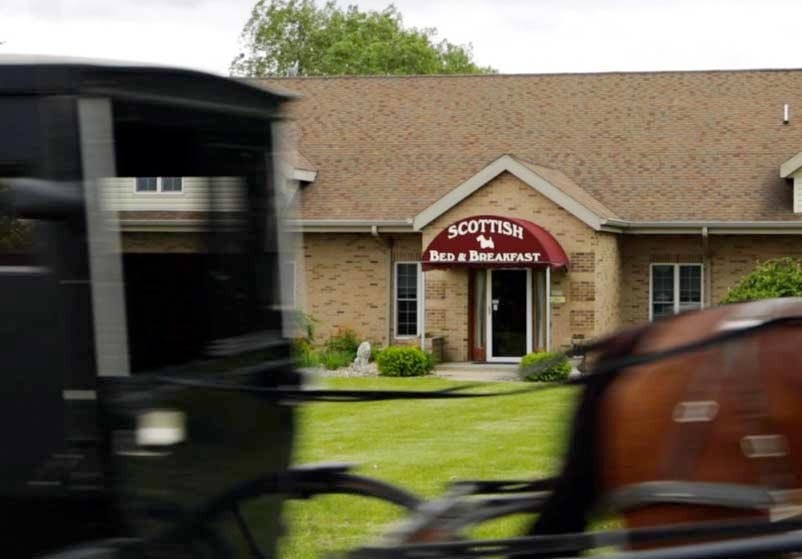 It is hard to believe 2015 is already over. It's been an amazing year with some truly fantastic guests staying at our Northern Indiana Amish Country B&B. So often we end up feeling as if we're hosting friends rather than just random travelers.
People stay with us in our Amish Country B&B for lots of reasons – whether they're traveling on business through Northern Indiana and enjoy a mid-week stay at Scottish Bed & Breakfast, are here for Notre Dame football weekends, holiday, a quilting or scrap-booking retreat, or are simply enjoying an Amish Country getaway.
The only thing that makes us happier than opening our home to these wonderful guests is discovering that they, too, enjoyed their stay – perhaps even as much as we enjoyed hosting them. It makes us blush with pride to read some of the nice things folks have said about us and we thought, as a way to celebrate the end of 2015, we'd share some of those sentiments with you:
"Indulge in Northern Indiana's finest! I work for a travel magazine so have the pleasure of staying at a number of B&Bs. The Scottish B&B is a favorite of mine for a number of reasons: its location and proximity to various venues and tourist attractions; the indulgences – like Sleep Comfort beds, the indoor pool, and luscious decorating; and fabulous food served by delightful hosts. I love the grounds too. Quiet, peaceful, and Homer works hard to keep everything neatly trimmed. Brenda and Homer do a great job in providing top-notch hospitality in this lovely B&B. I highly recommend it!"
"Gem in the farmlands! – Brenda and Homer welcomed us in with open arms. The rooms are beautifully appointed with no attention to detail left unturned! The breakfast was delicious and the only meal needed for the rest of the day! It really is a jewel that needs to be sought out!"
"Each morning we started our day with a gourmet breakfast for royalty, delicious and artful presentation. Homemade evening snacks were a delightful surprise to enjoy while we relaxed after experiencing the simple life in Amish country. Already, we are planning a return trip."
"What an amazing B & B – From start to finish, this was a sensational experience. Homer and Brenda are wonderful hosts. I loved my room, the loft, which was very private … Come to breakfast hungry because Brenda prepares an amazing one using local fresh ingredients. … I can't wait to return to this little gem!"
"The Best Place To Stay in Amish Country – I had a short stay in Bremen for family business and … could not have been happier with my choice! It was the thoughtful details that made the stay exceptional. I would recommend the Scottish Bed & Breakfast to anyone who appreciates a true B&B experience and wouldn't stay anywhere else if I'm back in the area. The bonus? Brenda and Homer's adorable Scottish Terriers!"
During your next Northern Indiana Amish Country getaway, let Scottish Bed & Breakfast be your home away from home – we're always ready to make some new friends!
Tags: mid-week stay, Notre Dame football weekends, quilting, scrap-booking retreat