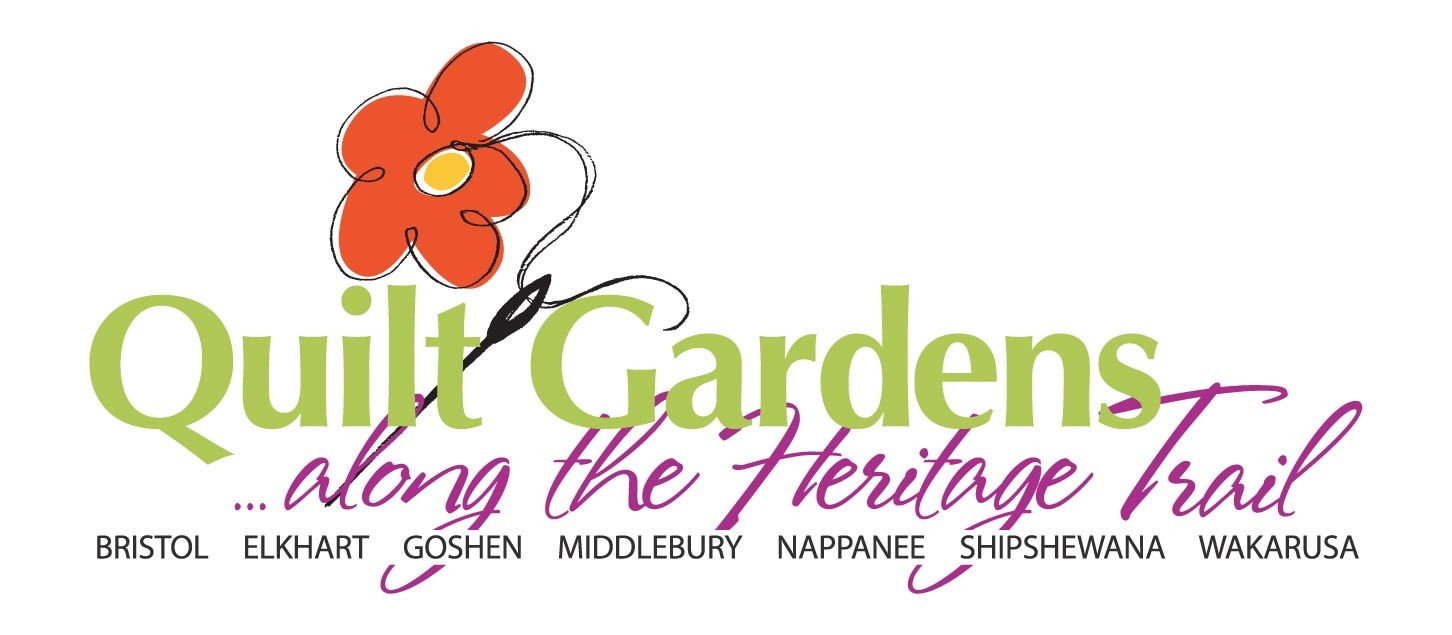 2016 is Indiana's Bicentennial and Quilt Gardens along the Heritage Trail is getting in on the celebration this year with 19 quilt garden patterns representing various time periods in Indiana's history!
Quilt Gardens Along the Heritage Trail is an annual, Indiana Amish Country event featuring more than a million flower blossoms arranged into 19 different, patchwork quilt-inspired gardens. Along with the vibrant quilt gardens, visitors can also view 21, large, hand-painted, quilt art murals.
The annual display are spread out along Indiana's, nationally recognized and self-guided Heritage Trail driving tour running through the communities of Bristol, Elkhart, Goshen, Middlebury, Nappanee, Shipshewana and Wakarusa, from May 30th through October 1st.
Quilt Gardens along the Heritage Trail 2016 Locations

Quilt Gardens
Bristol, Elkhart County Historical Museum / 1914 Duck Paddle
Elkhart, City of Elkhart, Central Park / 1966 Morning Star
Elkhart, Concord Mall / 1920 Indian Paintbrush
Elkhart, Linton's Enchanted Gardens / 1975 Card Trick
Elkhart, Premier Arts, Downtown Main Street / Back Home Again in Indiana (inspired by 1920 Dogwood)
Elkhart, Ruthmere / 1895 Crossed Canoes
Goshen, Elkhart County 4-H Fairgrounds / 1933 Friendship Circle
Goshen, Elkhart County Courthouse / 1906 Goshen
Goshen, The Old Bag Factory / 1930 Old Windmill
Middlebury, Das Dutchman Essenhaus / 1937 Indian Star
Middlebury, Dutch Country Market / 1841 Hearts & Flowers
Middlebury, Krider Garden / 1932 Cross Roads
Middlebury, Martin's ACE Hardware / 1981 Indian Sunburst
Nappanee, Coppes Commons / 1884 Railroad
Nappanee, Dutch Village Market / 1897 Box Car
Nappanee, Nappanee Center / 1932 Whirligig
Shipshewana, Glory Gardens / 1930 Nine Patch Star
Shipshewana, Weaver Furniture Sales / 1930 Indiana Puzzle
Wakarusa, Town of Wakarusa, Downtown / 1895 Star Puzzle
Quilt Murals
Bristol, Bonneyville Mill County Park / Trapunto and Appliqué
Elkhart, Elkhart County Visitor Center / Aurora
Elkhart, Thomas Building, Downtown / Old Fashioned Star
Elkhart, Concord Mall / Jazz It Up
Elkhart, Wellfield Botanic Gardens / Pinwheels & Ribbons of Hope
Elkhart, Westview Florist / Grandmother's Flower Garden
Goshen, The Old Bag Factory / Miles II Variation
Goshen, Goshen Chamber of Commerce / Maple Leaf
Middlebury, Das Dutchman Essenhaus / Double Wedding Ring
Middlebury, Martin's ACE Hardware / American Small Town Pride
Middlebury, Downtown Middlebury / Interlocking Hearts of Hope
Middlebury, Varns & Hoover Hardware, Downtown / Welcome to Middlebury (4)
Nappanee, John's Butcher Shop, Downtown / Amish Quilt Commemorative Stamps (4)
Nappanee, Amish Acres / The Blue Bird Thing
Wakarusa, Downtown Wakarusa / Dancing Leaves
You can learn more about Northern Indiana's quilt gardens, Heritage Trail driving tour, and even download a pdf of the 2016 Quilt Gardens Map on the www.amishcountry.org site.
Quilt Gardens Along the Heritage Trail Lodging
Scottish Bed & Breakfast is your home away from home during any and all of your Northern Indiana adventures. A charming Indiana Amish Country inn, Scottish Bed & Breakfast offers spacious and comfortable lodging, delicious breakfasts, heated indoor pool, and a quiet location on two acres in Bremen, Indiana. Let us help you make the most of your visit to Northern Indiana Amish Country!
Tags: Heritage Trail driving tour, Indiana's Bicentennial, Northern Indiana's quilt gardens, quilt murals