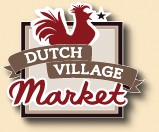 If you've a hankering for some good, old fashioned fun in Northern Indiana Amish country then a visit to Nappanee's Dutch Village Market is just the ticket!
At first blush, the Dutch Village Market in Nappanee might not sound like much of an attraction – oh, boy: a market – but Dutch Village Market is so much more than just your typical market!
Originally known as "The Borkholder Dutch Village," the Dutch Village Market is a veritable treasure trove: 70,000, climate controlled square feet of specialty shops selling everything from antiques to produce, books to furniture, children's toys to tools … but Dutch Village Market is not just about shopping – a visit to Dutch Village Market is an experience all on its own.
Things move at a slightly different pace at Dutch Village Market because that's what Dutch Village Market is all about: quaint, slow, relaxing, and rural. Don't believe me? Take a walk through the Main Street Shops, designed to look and feel like the main street of a classic, Americana town, complete with a schoolhouse!
While it is true that bargain hunters and collectors will love the hundreds of craft, gift, and antique booths with their endless selection of unique goods – hand crafted products, solid wood furniture, home interior decorations, gifts, antiques, recycled items, books, specialty coffees, food, vintage linens, classic glassware and so much more! – fans of old-time America will revel in the sights and sounds that transport them back to an earlier, simpler time.
Dutch Market Village hosts special events throughout the year, too –
Dutch Market Village Special Event Schedule for Fall 2015
Weekly Auction and Flea Market – Every Tuesday with supper and snacks at the concession stand
Weekly Hay Auction – Every Tuesday at 3pm
Weekly Produce Auction – Every Tuesday and Friday, 4pm
2nd Saturdays Special Sales and Events – 9am to 5pm
Dutch Village Market
700 N Tomahawk Trail, Nappanee, IN
Monday through Saturday, 9am to 5pm
Dutch Village Market Lodging
Scottish Bed & Breakfast is located a short distance from Nappanee and the Dutch Village Market! We offer such wonderful amenities as fireplaces in each room, plush bathrobes, bedside chocolates from the South Bend Chocolate Company, Select Comfort number beds, delicious, homemade breakfasts, and so very much more! Scottish Bed & Breakfast is the perfect place to relax and renew in Indiana Amish Country. Book your stay with us today!
Tags: Borkholder Dutch Village, Dutch Village Market Lodging, Northern Indiana Amish Country