Explore the Indiana Amish Country & Beyond
Our lodging location in Bremen makes an ideal "home base" for exploring the Amish Country and the many other attractions of Northern Indiana. Let us help you plan the perfect itinerary!
Indiana Amish Country
Our B&B in Bremen is convenient to all the destinations of the third largest Amish region in North America, including:
Over 20,000 Amish live in the communities and rural countryside of this area. Their culture is a major tourist draw. There's plenty more to explore in the Indiana Amish Country as well, including: shopping, dining, historic sites, two popular tours and much more.
---
Elkhart, Indiana
Just 20 Minutes Away!
Elkhart, Indiana is a vibrant riverside town offering a memorable mix of 19th Century architecture and modern shopping, dining, arts and entertainment attractions. Enjoy a scenic stroll along the City of Elkhart RiverWalk.
---
Shipshewana, Indiana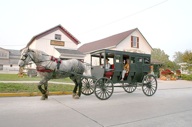 Just 40 Minutes Away!
Shipshewana is a thriving village offering charming, turn-of-the-century (20th Century, that is) storefront-lined streets, horse-drawn buggy rides through town and the countryside and more, including:
Shipshewana is home to the Trading Place Flea Market, the largest of its kind in the Midwest. Open every Tuesday and Wednesday from the first of May through the end of October, visitors may browse hundreds of flea market vendors offering items ranging from fresh produce to handmade Amish furniture.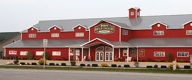 Adjacent to the Shipshewana Flea Market, the enormous red barn structure of Yoder's dutch country store beckons shoppers to enter. Browse for clothing, collectibles, furniture housewares and more. View a beautiful pastoral mural painted by a local artist.
The Riegsecker Marketplace Blue Gate Theater in Shipshewana offers up a full calendar of bluegrass, comedy, country, Southern gospel and other evening and matinee performances in a family-friendly setting. Contact innkeeper Brenda to purchase your tickets in advance to ensure a good seat.
Dive into Amish and Menonnite culture through the multimedia displays at the Menno-Hof museum in Shipshewana.
---
Goshen, Indiana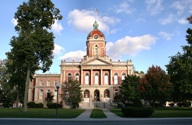 Just 35 Minutes Away!
Home of the Old Bag Factory and South Side Diner. The 1950's soda shop was visited by Guy with "Divs and Diners" on The Food Network.
Located in the heart of Indiana Amish Country, Goshen offers guided Amish farm and home tours, shopping, dining, historic sites and museum.
Old Bag Factory
Goshen's historic Old Bag Factory was built in 1896 and is now home to artists, antiques, specialty shops and cafes. Here, old and new are blended together to preserve the best of the past and showcase the best of the present!
---
Middlebury, Indiana
Just 35 Minutes Away!
Home of Rise and Roll Bakery and Das Dutchman Essence Haus Restaurant and Bakery. This classic small town of Middlebury offers lots of unique shops and a thriving Main Street. Enjoy unique offerings such as, locally made baked goods, cheese, honey, ice cream, smoked meats and more.
---
Nappanee, Indiana
Just 10 Minutes Away!
With a downtown right out of the 19th Century, Nappanee offers unique anitiques, dining, and home décor. There's more in store outside of town, including: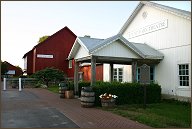 Learn about the Amish community and history while enjoying a recreational getaway. Amish Acres is great for children and families! There is a restaurant, gift shops, Christmas Store, Cheese Store and an Amish farm house with daily tours.
Amish Acres Round Barn Theatre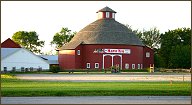 Attend a theatrical production in the famous "Round Barn Theatre," located at Amish Acres. Contact innkeeper Brenda to purchase your tickets in advance and get good seats for the performances.
Dutch Village Market in Nappanee, Indiana is the nation's largest arts, crafts, antiques & collectibles mall.
---
Bristol, Indiana
Just 45 Minutes Away!
Bristol is located along the Elkhart River and offers quaint shopping & dining, river access for fishing & boating, and hiking & biking trails, plus a variety of attractions which include: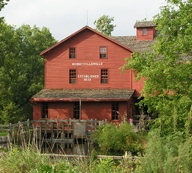 Bonneyville Mill in Bristol, Indiana has been providing quality stoneground flour to the area since the mid-1830s. Take a tour of the "daily grind" at this working grist mill and browse The Barn Gift Shop's unique natural and historical products.
---
Wakarusa, Indiana
Just 25 Minutes Away!
Home of the Wakarusa Dime Store known for their Jumbo Jelly beans and candies from the 1950's. You'll only find a single stoplight in the center Wakarusa. Discover a charming collection of antique stores, small shops, unique restaurants and small businesses.
---
Indiana Amish Country Tours
Pick-up a CD from Scottish B&B and take the Heritage Trail self guided driving tour of the Indiana Amish Country to discover experiences of the Amish and history of the area as you drive – very educational and informative!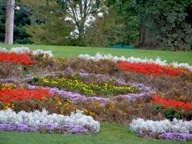 From Memorial Day through the first weekend of October, the Quilt Garden Tour of the Elkhart County, Indiana towns of Bristol, Elkhart, Goshen, accents area heritage and displays the fabric of life in Indiana's Amish Country. Tour a colorful combination of nature and art through over a dozen "quilt gardens" and large, hand-painted quilt mural displays.
Northern Indiana
Northern Indiana comprises seven contiguous counties, each offering a wide array of attractions and activities. Nearby destinations and highlights include:
---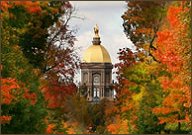 University of Notre Dame
Just 25 Minutes Away!
The University of Notre Dame offers athletic events of the legendary "Fighting Irish." Campus tours are available.
---
South Bend, Indiana
Just 25 Minutes Away!
South Bend is the fourth largest city in Indiana and is the hub of the Michiana region, which is also home to the University of Notre Dame.
For just $5 per person, enjoy the thrill of white water rafting in downtown South Bend. Launch from Niles Avenue and get ready to get wet!
The Potawatomi Zoo is located on 23 acres in South Bend, Indiana and is home to over 400 animals ranging from mammals & birds to reptiles, amphibians and invertebrates.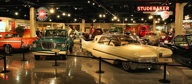 Come see the legend started in 1852 at the Studebaker National Museum in South Bend, which is dedicated to promoting the industrial heritage South Bend area by the conservation, preservation, interpretation and display of Studebaker vehicles and related items.
Enjoy tours and factory store shopping at the The South Bend Chocolate Company.
The Center for History in South Bend is a museum that collects, preserves, interprets and displays the heritage of the St. Jospeh River Valley region. It is the second oldest historical society in Indiana.
The mission is to collect, preserve, interpret, exhibit and teach the heritage of the St. Joseph River Valley region. First organized in 1867, the Center for History is the second oldest historical society in Indiana. www.centerforhistory.org
---
Plymouth, Indiana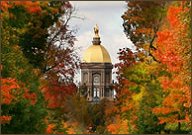 Just 12 Minutes Away!
Plymouth is known as a friendly small town that offers the amenities of a larger city. Explore the thriving arts, delicious dining, antiques shopping, and other attractions, including:
One of the few drive-in theatres left in the area also features miniature golf.
---
Just 15 Minutes Away!
Potato Creek State Park covers 3,840 acres and offers a variety of recreation, including:
Bicycle Trail – 3.3 mile paved trail. Bicycle rentals are available.
Hiking.
Boating, Canoeing & Kayaking – Rental boats and canoes are available by the day or the hour.
Cross Country Skiing
Fishing – Species include bass & bluegill. State license is required.
Swimming on Free Beach
Picnic Areas with Tables, Grills and Shelters
Playground Equipment & Playfields
---
Bremen, Indiana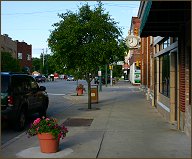 Our Hometown!
The town of Bremen (pronounced "bree-man") was founded in the mid-1800's as a rural farm community and has grown to a small town offering a variety of family friendly attractions and activities to visitors that range from charming shops in the quaint downtown area to the fishing, skiing & boating at Lake of the Woods.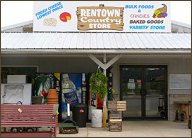 Rentown Country Store
A MUST SEE! This Amish grocery store carries an array of useful household items plus home-made Amish breads, jams, pies, fresh fruits and vegetables.
---
Golf Courses
5 Golf Courses within 15 Minutes!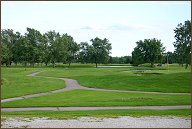 ---
Restaurants
Popular Northern Indiana restaurants include:
Brass Rail Bar & Grill – Plymouth, IN
Blue Gate Restaurant, Shipshewana, IN
Christos Family Restaurant – Plymouth, IN
Das Dutchman Essenhaus (Amish restaurant) – Middlebury, IN
Pat's Bar (nightly dinner specials, reasonably priced) – LaPaz, IN
Mean Bean Cafe (salads, soups, sandwiches & fancy drinks) – Bremen, IN
The Wooden Peel (famous pizzas & sandwiches) – Bremen, IN
Pizza Hut (will deliver to B&B) – Bremen, IN
Tippecanoe Place Restaurant (in the historic Studebaker family home) – South Bend, IN
East Bank Emporium Restaurant – South Bend, IN
Hacienda Mexican Restaurant (15 minutes north on same road as B&B) – South Bend, IN
Panera Bread – South Bend, IN
Texas Roadhouse – South Bend, IN
Applebee's – Plymouth, IN
Maxi's Food & Spirits Barn – South Bend, IN
---
Northern Indiana Shopping
In addition to the unique and antique items to be found in the area's specialty shops, Northern Indiana is bustling with mall shopping opportunities, including:
---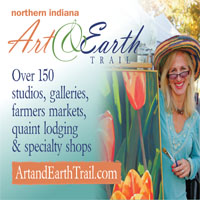 Art & Earth Trail
Over 150 studios, galleries, farmers markets, quaint lodging, & specialty shops. ArtandEarthTrail.com
---
Lake Michigan
Lake Michigan Beaches
The pristine white sand of Lake Michigan beaches of Michiana include Harbor Country in Michigan and Northwest Indiana.
Casinos