Rates for lodging include breakfast. Join us in the inn's dining room each morning at 9:00 AM for a delicious gourmet morning meal. We visit our market daily so we may offer you the freshest of ingredients and local grown produce. Our recipes use fresh Amish farm eggs (grain fed chickens). Below are examples of what we serve.
Intimate Dining Options
Just the two of you? Celebrating a special occasion? The Scottish Bed & Breakfast has the PERFECT option. You have a choice of eating breakfast in your PJ's in the privacy of your room, just the two of you, for only $20, the Innkeeper will delivery your breakfast to your door with a knock. Or Enjoy individual dining poolside, or on the garden patio area where you can hear the birds singing in the summer time, or if you want to mingle with other guests for breakfast, the main dining room table is for you…it's your choice.
Some of our favorite dishes: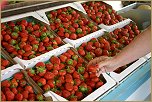 Inn hosts selects the finest produce at the local market.
Beverages
Hot gourmet coffee, assorted teas and orange juice, are available at breakfast. In addition, you can purchase pop or bottled spring water in the poolroom refrigerator.
Fresh Baked Breads
Amish homemade wheat bread served with Amish jams and church peanut butter, assorted sweet breads.
Fresh Fruit
Seasonal Fresh Fruit
Poached Pears
Baked Apple
Entrees
Feather Bed Eggs – An egg soufflé of broccoli, cheddar cheese and bacon baked until puffed and golden.
Puffed Pancakes with homemade Blueberry Sauce
Spinach Quiche
Sunshine Quiche – Sausage, eggs and sautéed onion.
Oatmeal Soufflé – Prepared oatmeal with pecans, raisins, cinnamon and nutmeg baked and served in a ramekin.
Baked Cinnamon French Toast
Sides
Bacon or Canadian Bacon
Sausage Links
Roasted Red Potatoes
A selection of cereals