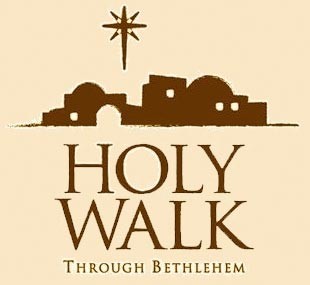 Immerse yourself in the world of the very first Christmas on the Bremen Holy Walk. December 9th and 10th, 2016.
Bremen United Methodist Church has held the Bremen Holy Walk for over 30 years. It is an event that never fails to impress and inspire!
The Nativity is everywhere this time of year. In your neighbor's yard, on your mantle, in print and on tv. It's a warm and comforting image but imagine being able to actually enter the town of Bethlehem! To locate the actual stable, and witness the newborn King in the manger!
The Bremen United Methodist Church re-enactment does its best to provide the next best thing to this very experience.
The Holy Walk puts you in the shoes of people like Joseph and Mary. You'll find yourself trudging through a cold, winter field towards Bethlehem to be counted for the Roman census. Along the way you can imagine how it must have felt for them, especially when your journey is interrupted by the Angel of the Lord bringing the good news!
Once you reach Bethlehem, you'll be counted for the Roman census, then turned away at the inn when you look for lodging. The good news of Christ's birth will ring in your ears as you walk towards the stables. Then you will see the assembled Wise Men and the good people of Bethlehem gathered around the manger in this lowly stable, witnessing and celebrating the miracle of the newborn King!
Those who hope to attend this truly moving and immersive event need to be aware that you will, indeed, be traveling across cold fields, on foot, at night. The shuttle bus service to "Bethlehem" leaves from Bremen High School every 15 minutes but expect a 2 to 3 hour wait. The 45-minute walk across the fields means you need to dress warm with sensible shoes. No, sorry – this event is not wheelchair accessible.
Bremen Holy Walk is a true experience that entertains and informs, bringing you closer to the real truth and purpose behind the celebration of Christmas.
Bremen Holy Walk 2016
December 9th, 5pm to 9pm
December 10th, 4:30pm to 9pm
For more details, please visit: www.bumchurch.org
Bremen Holy Walk Lodging
At Scottish Bed & Breakfast, you will not be turned away at Christmas or any other time! Our attention to detail, amenities, and nourishing breakfasts will make your stay the best ever. Make Scottish Bed & Breakfast your home base for all your Indiana Amish Country adventures – and have a Merry Christmas!
Tags: Bremen Holy Walk Lodging, Bremen United Methodist Church, Indiana Amish country