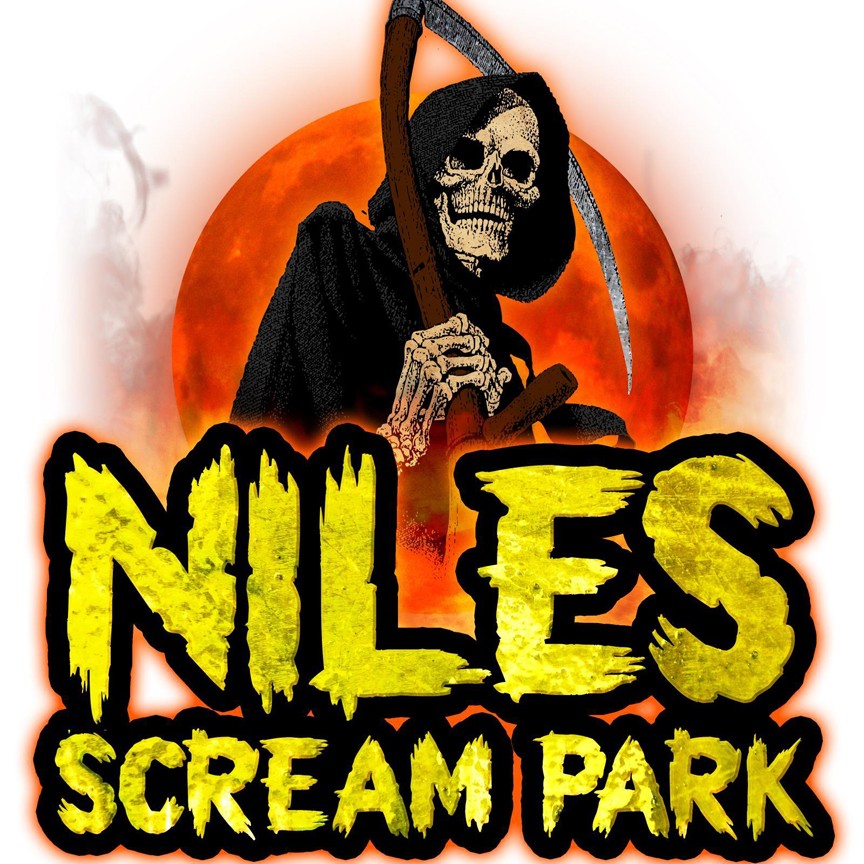 Niles Scream Park, the popular, Niles Michigan Haunted House attraction, is open for boo-isiness weekends from now until Halloween 2016!
Around Halloween, few things can be as fun and exciting as a good scare and that's just what Niles Scream Park offers! Six professionally designed, spooky attractions on 44 haunted acres in Niles, Michigan. Not only is the park one of the largest, it has also been recognized by Haunted Attraction Magazine as one of the "Top 31 Must-See Haunted Attractions" nationwide!
One of the best things about Niles Scream Park is that all its attractions are rebuilt every year for a fresh scare. The park's reputation for ingenious scare-tactics has made it one of the country's premier haunted houses.
So what will you see at the park this year?
Beyond returning fan-favorites like the Rotating Floor and the Elevator Drop, this year's focus is on classic horror films. The Creature From The Black Lagoon, the Mummy, Wolfman, Frankenstein's Monster, Dracula, Dr. Jekyll and Mr. Hyde, Sweeney Todd, and more will be on hand to scare you silly!
This year also brings Krampus, the evil horned helper of Germany's St. Nicholas, to the park to punish the naughty children … and adults. You'd better hope you're not on this Christmas imp's list!
You can also visit the infamous Cabin 13, scene of a mysterious series of gruesome murders in 1962. Are you brave – or foolhardy – enough to enter Cabin 13?
You can also try your luck in the Field of Screams, a cemetery maze designed to get your heart pumping – or stop it entirely! New to the maze this year is the Bayou, with its series of floating bridges, fishing shacks, and lurking swamp creatures. Clown Town, another new addition, will boggle your sense of direction with its creepy, clown-laden fun house mazes.
Other attractions include the Dark TERRORtory Haunted Hayride, Zendor's Murphy's Law show, and the Haunted Midway, with its entertainers, games, and concessions.
Perhaps best of all, your visit to the Scream Park helps a good cause. Last year alone, the park generated more than $106,000.00 for local charities. More than $1,570,000.00 has been donated since 1996, not to mention the Niles Scream Park funded college scholarships.
With over 100 possible routes through the park, you never know who (or what!) you'll run across!
Niles Scream Park
855 Mayflower Rd, Niles, MI 49120
Weekends now through Halloween
Last Gasp Weekend: Nov 4th and 5th
For more details, information, and tickets, be sure to visit: www.haunted.org
Niles Scream Park Lodging
Niles Haunted House attraction is only half an hour's drive from Scottish Bed & Breakfast. Our Bremen B&B is your home-away-from-home with an indoor swimming pool, Select Comfort Number king or queen beds, fireplaces, and climate control in every room! Book your stay at Scottish Bed & Breakfast, today!
Tags: Creature from the Black Lagoon, Dr. Jekyll and Mr. Hyde, Dracula, Frankenstein's Monster, Mummy, Niles Haunted House, Niles Michigan Haunted House, Niles Scream Park Lodging, Sweeney Todd, Wolfman