Basket with Amish Homemade Goodies
Business Travelers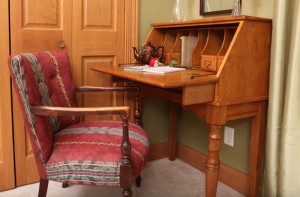 Special Corporate rate of $79 + tax are available at the inn Sunday through Thursday nights.
Wouldn't you rather stay at a clean, safe Bed and Breakfast close to major highways and cities with all the convenience of home.
Rate is based on single occupancy and includes a full breakfast each morning.
Please call for availability.
Stay 5 nights or more and receive "5th Night FREE"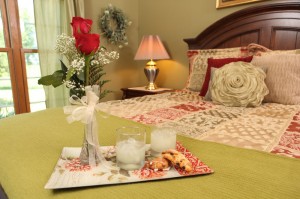 Stay 2 nights and receive 2 Passes to Tour Ruthmere Museum and Havilah Beardsley House. ($30 value)
Stay 3 Nights, RECEIVE 3rd Night 1/2 price.
Stay 5 Nights RECEIVE 5th night FREE
MUST mention when booking your reservation to receive any of these special DEALS. EXCLUDES: Notre Dame weekends and Events, Festivals and Holidays.
Romance Package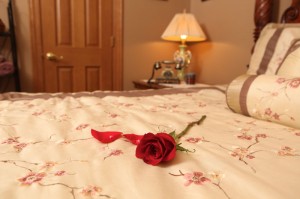 She will be swept off her feet with this romantic package at the Scottish Bed & Breakfast. A bouquet flowers and box of gourmet chocolates will be placed in your room before arrival. You both recieve a 1/2 hour in-room private massage, then enjoy a romantic dinner at a local restaurant ($20 gift certificate towards dinner).
This package includes all Inn amenities plus…
One Hour Massage (1/2 hour each in the privacy of your room)
A bouquet of flowers with vase to keep
$20 Gift Certificate at Local Restaurant
Box of Mouth-Watering Gourmet Chocolates
Pricing: $145 + guestroom of your choice (guestroom, tax and gratuities are NOT included in package price)
Advance Reservations Required
Amish dinner and buggy ride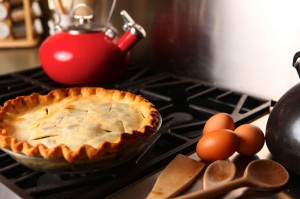 Enjoy an evening dinner at a real working Amish farm near our inn! Bring your list of questions about living an Amish lifestyle. The Amish couple are delighted to educate about Amish living while sharing in a traditional home-made meal. The dinner menu includes a classic Amish entree, side dish and delicious dessert. Complete your evening with a charming country buggy ride.
This package includes all Inn amenities plus…
• Dinner at an Amish Farm
• After dinner buggy ride
Pricing: $20 per person – $8.00 children 12 and under (gratuities are not included)
Advance reservations are required.
Amish Country Theatre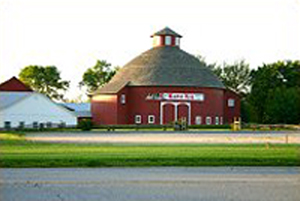 Come stay for two nights lodging at the Scottish Bed and Breakfast and enjoy visintg Amish Acres. You will see their horse and buggies, take a tour of an Amish home, do some shopping, eat Amish cooking, and see a theatre play in the round barn at Amish Acres.
This package includes all Inn amenities plus….
• Guided Amish House and Farm Tour (two Hours for two adults)
• Theatre Play for Two Adults in Round Barn (2 adults)
• Amish Threshers Dinner (2 Adults)
Pricing: $125.00 + guestroom of your choice
(package price does not include guestroom choice, tax or gratuities)
Advance Reservations Required
Large Family Holiday
Do you have a large family wanting to celebrate the holidays together, but don't have the space for them all?
We invite you and your family to the Scottish B&B as a special gathering place for the holidays. Overnight accommodations are required.
Your package price will include guestroom(s), turkey for dinner (you provide the side dishes and dessert) and snacks in the eveing. Stay with us and enjoy a relaxing holiday treat!
Please call us for further details and pricing.
Birthday Pool Parties (kids or adults)
Treat someone special to private pool party celebration.
Our pool parties include: Use of our pool room with 15ft.wide x 23ft.long x 4ft. deep pool, set-up and clean-up. You supply all paper goods, food, cake etc….
Rate: $75 per hour – maximum 40 people.
Please call for reservations and further details. 574-220-6672
Girlfriend Getaways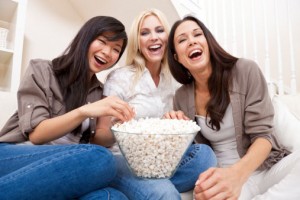 Scottish Bed and Breakfast offers you a FUN GETAWAY with your closest friends. NO husbands, NO kids, just you and the girls, watching movies with popcorn, playing games, talking, shopping, eating, pampering yourself with a massage, or just reading a good book by the indoor pool. PERFECT Scrapbooking/Quilting Retreat too!
Rate:  $50.50 per lady, per night (tax included) 2-4 in a guest room, if one (1) lady in a room is $75 per night.
minimum 6 – maximum 16 – advance reservation required.
Add optional massage (certified therapist) for:  $70 one hour.
Scrapbooking Retreat or Quilting Retreat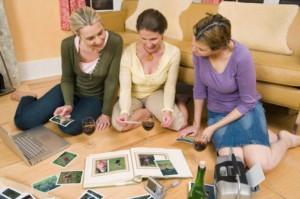 Get away with your friends and scrapbook/quilt the day (or night) away! A minimum two nights lodging is required. We supply the room (2000 sq. ft area with serving bar, kitchenette, lounge area, refrigerator, sink and microwave oven. ), 6 ft and 8 ft tables and chairs, bright lighting, and lots of electrical outlets.
"Pizza Party…On Us" (when you stay two nights) your first night, you can bring in your own food for lunch and dinner,  feel free to bring in your favorite snacks, beverages and goodies to share all night long for both nights. This is a great way to meet new friends  with something in common…scrapbooking!
Note: (pool use is not available for Scrapbooking Retreats)
Rate: $50.50 (with tax included) per lady, per night (includes lodging)
Minimum 6, maximum 16 Ladies, 2-4 in a guest room, if one (1) in a room $75 per night. All ladies must stay duration of the reserved dates.
Add optional massage (Certified Massage Therapist) for: $70-1 hour.
Bridal and Baby Showers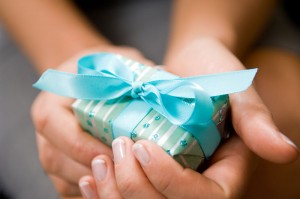 We provide a great space for your special occasion.
We provide the room with tables and chairs, set-up and clean -up. You provide any decorations, paper goods, food, beverages etc. …
Rate: $75 per hour. – Maximum 40 guests.
Please call us for further details and to schedule a consultation and tour.
Note:(pool use is not available for baby showers)
Thousand Dollar Wedding Package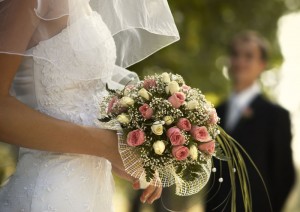 Great location for small, intimate wedding or renewing your vows! We provide a lovely area which accommodates up to 15 people for your special day. Thousand Dollar Wedding Package includes: Facility, Wedding coordination of an indoor or outdoor ceremony, Officiating clergy, Bridal Bouquet and Groom Boutonniere, Wedding Cake and Punch, Dinner Voucher for Two at Tippecanoe Restaurant, Two nights lodging in the room of your choice and a picture of the newlyweds…all this for ONLY $1,000!
Call for an appointment TODAY!  NO stress, just show up and all the work is done for you.
574-220-6672
Note:(pool use is not available for weddings/receptions)
Reunions/Gatherings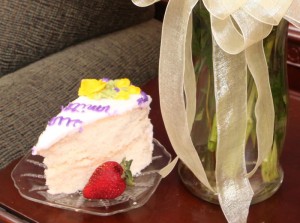 Gather you friends and family together at the Scottish B&B for a memorable occasion. We provide: Use of our pool room with 15ft. x 23ft. x 4ft. deep pool, set-up and clean-up. You supply the flowers, food, cake etc….
Rate: $75 per hour – Maximum 40 people. Please call for reservations and further details. 574-220-6672