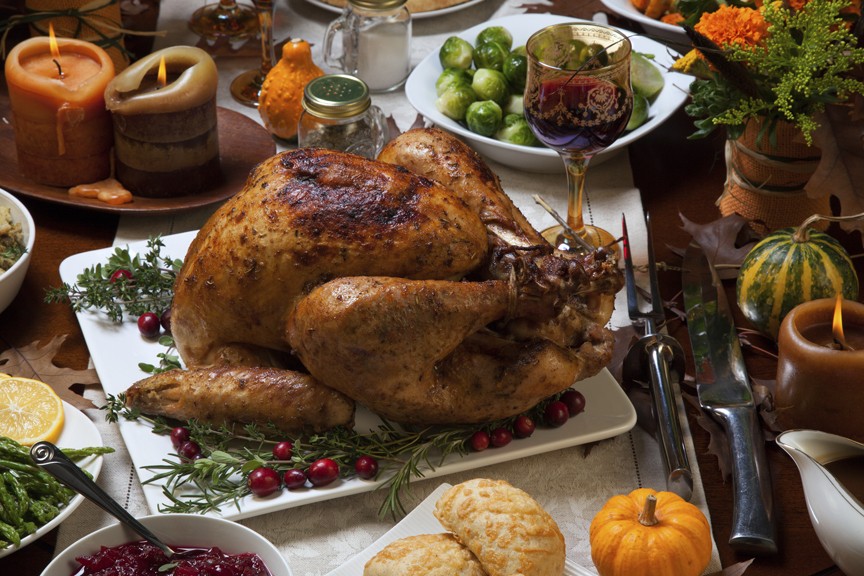 Make the most of the holiday season with an Amish Country holiday getaway at Scottish Bed & Breakfast – we'll even provide the turkey for your dinner!
Ah, the holiday season: the lights, the sounds, shopping, family get-togethers, a full-house, preparing big meals, cleaning up … Okay, so maybe some aspects of the holiday season can be less thrilling than others.
If you're dreading the stress of having a house full – or maybe you just want to try something different this year – let us do the work for you with our Amish Country holiday getaway!
That's right, we may be an Indiana Bed and breakfast, but we can make Thanksgiving dinner and Christmas dinner, too!
Scottish Bed & Breakfast's Large Family Holiday special is our invitation to you and your family to come spend the holidays at our house! We'll decorate, make the turkey and evening snacks, provide overnight accommodations, then clean up when you're done. All in a 2,000 square foot pool-room! In case you spill something on the carpet, you can get carpet cleaning columbia sc services.
At our family get-together, all you have to do is provide the side dishes, dessert, appetites, and happy conversation! Now THAT is an easy and happy holiday get-together that is bound to create holiday memories that will last for years to come.
Amish Country Holiday Getaway
Interested in taking advantage of our Amish Country holiday getaway? Give us a call and reserve your stay, now! Time is of the essence, however. This special has limited availability, for obvious reasons, and tends to go quickly.
Overnight accommodations don't have to be a deal breaker, either. Though they are required for our Large Family Holiday special, it is also possible to just rent out our 2,000 square foot pool-room for the evening. Give us a call and let us know what you're thinking. We'll see what we can do to accommodate your needs.
Indiana Amish Country Lodging
Scottish Bed & Breakfast's spacious lodging, luxurious amenities, and nutritious breakfasts will make your stay uncommonly relaxing. Let us be your home base whenever you're in in Indiana Amish Country! Book your stay at Scottish Bed & Breakfast today!
Tags: Christmas dinner, Holiday special, Indiana Amish Country lodging, Thanksgiving dinner