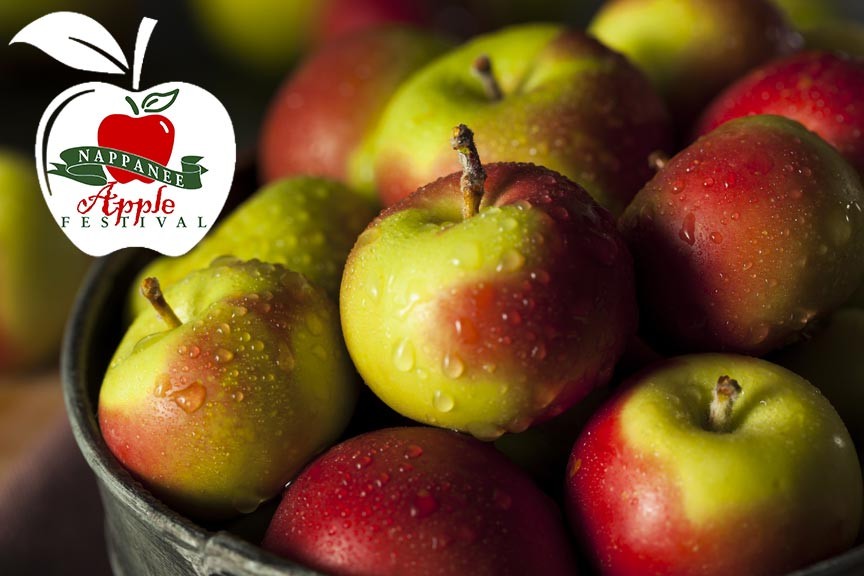 Come join in on all the fun at the 41st annual Nappanee Apple Festival! Scheduled for September 15th – 18th, 2016 in downtown Nappanee, IN.
The Nappanee Apple Festival attracts more than 80,000 people every year, making it one of the largest festivals in the State of Indiana!
Speaking of large, one of the festival traditions is the baking of Indiana's biggest apple pie! This tremendous, 7 foot wide, apple pie comes out of the oven just in time to kick off the festival! The 600 lb behemoth yields over 800 slices of pie for attendees to the festival. Will you be lucky enough to get a slice?
The Nappanee Apple Festival features numerous apple-related events. There's an apple peeling contest, an apple pie eating contest, and an apple baking contest. There will also be vendors selling apple dumplings, apple butter, apple cider, apple fritter bread, apple turnovers, homemade applesauce and more!
The festival includes two stages of live entertainment, carnival rides, and parade with signature military aircraft fly-over. With 130 craft vendors, 60 commercial vendors, shoppers will find plenty to browse through. Nappanee Apple Festival is a great place for early holiday gift buying!
Some of the festival's bigger events include a tractor and truck pull, a 5K road run, the Wings and Wheels show at the airport, and the Miss Apple Blossom scholarship pageant. The tractor and truck pull is held at the Callander Sports Complex and precedes the festival on Saturday, September 10th. One can go to the cars for sale near me, to purchase the best trucks for this competition.
The festival opens at 5pm, Thursday, September 15th and closes 6pm on Sunday, September 18th, 2016. For a full schedule of events, directions, and more information, visit: www.nappaneeapplefestival.org
Nappanee Apple Festival 2016
September 15th to September 18th
Downtown Nappanee, IN
Nappanee Apple Festival Lodging
Nappanee Apple Festival is less than a quarter hour's drive from Scottish Bed & Breakfast! Luxurious amenities, spacious lodging, and delicious breakfasts are yours at Scottish Bed & Breakfast. Make us your Nappanee lodging choice – you'll be glad you did!
Tags: Callander Sports Complex, Indiana's biggest apple pie, Miss Apple Blossom, Nappanee Apple Festival Lodging, Wings and Wheels