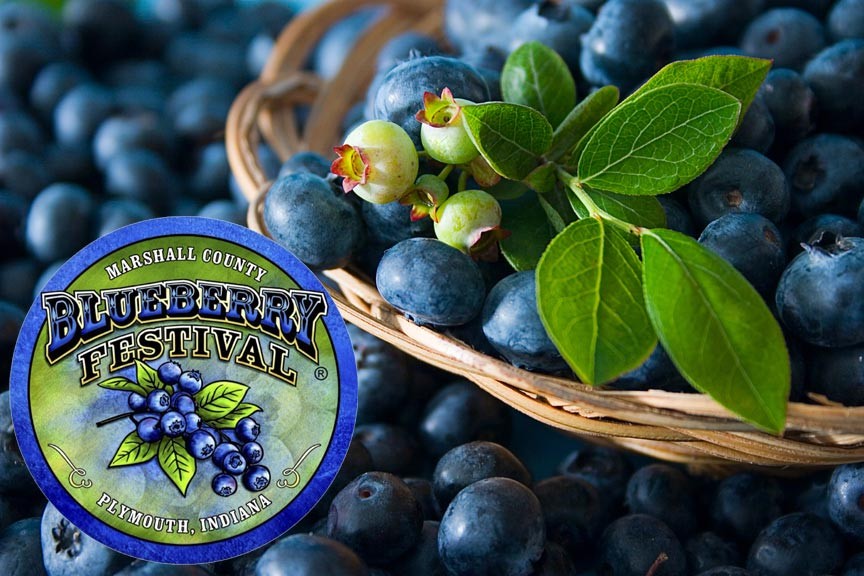 The Marshall County Blueberry Festival is mere weeks away, Labor Day Weekend, September 2 – 5, 2016. This year's celebration marks the 50th annual return of this beloved event.
This year's Blueberry Festival is going to be even bigger and better than ever before, which is quite the accomplishment. It's already Indiana's largest 4‑day festival!
The Marshall County Blueberry Festival has been going strong since 1966, when it was held to celebrate Indiana's sesquicentennial. The event morphed into a blueberry festival thereafter, and no wonder: Marshall County grows a lot of blueberries and the blueberry is a wonderful fruit!
While the full schedule for the 2016 Blueberry Festival has yet to be announced, we do know it will include a great mix of hometown Americana, with multiple stages of live music, the annual parade, fireworks, and carnival rides.
In addition to all the entertainment, there are also lots of contests to watch. The Blueberry Stomp foot races are back, along with the horse and tractor pulls. The annual Blueberry Bicycle Cruise offers a number of different road races for the peddle-set. The Blueberry Splash is a new event involving a 1 mile, open water swim across Myers Lake!
Because of the big crowds, the festival always attracts a great group of regional and national musicians. Gospel, country, blues, and get-you-up-on-your-feet pop tunes can be expected on its many stages. Bring your dancing shoes!
Other attractions include food and craft booths, the annual car show, and – of course! – a blueberry-pie eating contest. The hot air balloon launches are fascinating, too! This is especially true on Sunday before the fireworks during the annual Blueberry Balloon Glow when they rise into the darkened sky, aglow with light and color!
The Marshall County Blueberry Festival truly is hometown America at its finest. Don't miss it!
2016 Marshall County Blueberry Festival
Labor Day Weekend – September 2nd through the 5th, 2016
Plymouth, Indiana
Be sure to visit the festival website for more details as they are announced: www.blueberryfestival.org
Marshall County Blueberry Festival Lodging
Scottish Bed & Breakfast is less than a 15 minute drive from the Marshall County Blueberry Festival. We offer comfortable and spacious lodging in Northern Indiana Amish Country. Book your stay with us today!
Tags: Blueberry Splash, Blueberry Stomp, Marshall County Blueberry Festival Lodging, Myers Lake, Northern Indiana Amish Country