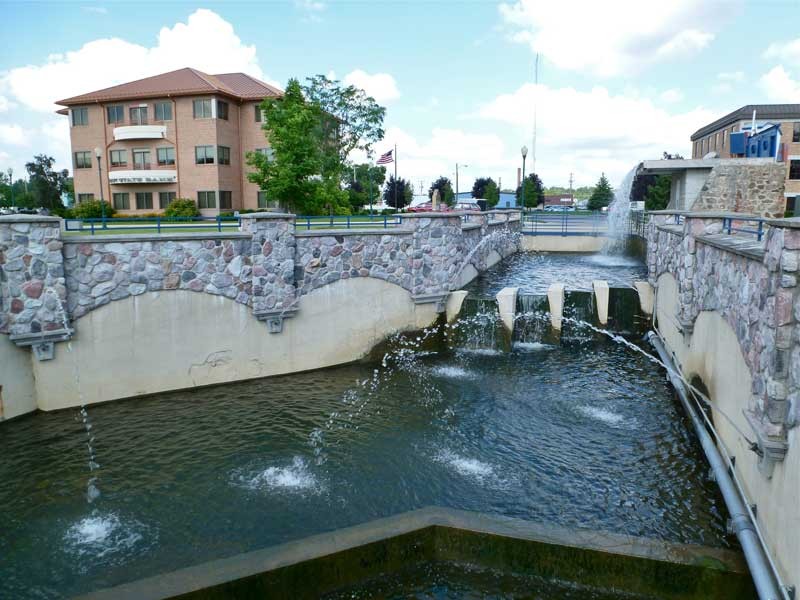 Now that it's beginning to look a bit more like spring, the urge to get outdoors and into the sun is stronger – why not indulge yourself with a stroll along the Elkhart RiverWalk?
The Elkhart RiverWalk is an exciting parkland developed on the banks of the Elkhart River in downtown Elkhart, Indiana – just a half hour drive from Scottish Bed and Breakfast. The Elkhart RiverWalk Commons were inspired by the success of other such urban parks around the world.
Elkhart's RiverWalk features a winding, waterside path that runs just over 3 miles, through the heart of Elkhart's historic center. Enjoy the off-beat sculpture and welcoming green spaces that greet you during a leisurely stroll through Elkhart's Garden and Arts & Entertainment Districts.
Peruse the fascinating and educational offerings of one-of-a-kind museums along the way, such as the Midwest Museum of American Art. From Norman Rockwell to quirky, contemporary sculpture, the Midwest Museum of American Art has it all. The very building, in beautifully renovated neo-classical style, is a work of art. The nearby New York Central Railroad Museum is a must-see for train buffs of all degrees and ages.
Dining and entertainment are on hand as well, with many great restaurants, such as at McCarthy's on the Riverwalk, where a delicious taste of Irish and American fare can be enjoyed al fresco. Or how about a show at the cornerstone of Elkhart's Arts and Entertainment District, the Lerner Theatre. This historic and lush classic venue has been restored to the height of its 1920s elegance while simultaneously being updated to state of the art sight and sound.
Elkhart's RiverWalk encompasses seven waterfront parks and foliage attractions like the eye-popping, supersized Quilt Gardens. It takes more than a million blooms to "sew" these beautiful designs and each year brings new patterns, on display from May 30th to October 1st. Don't miss the 7,000-square-foot Fall Flower Carpet in September!
Year-round events, great shopping, entertainment, beautiful views, romantic meals, and scenic relaxation are all yours for the taking on downtown Elkhart's RiverWalk all year round.
Tags: Elkhart RiverWalk Commons, Fall Flower Carpet, Lerner Theatre, McCarthy's on the Riverwalk, Midwest Museum of American Art, New York Central Railroad Museum, Quilt Gardens