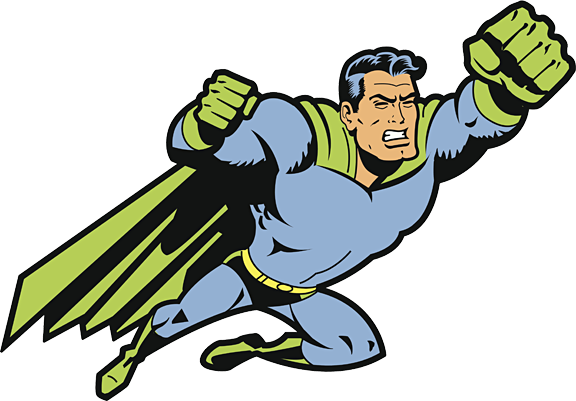 Slip out of your secret identity and slide into your tights and cape – it's time to visit Hall of Heroes Superhero Museum in Elkhart, Indiana!
Founded by super-collector Allen Stewart, the exterior of the Hall of Heroes may look more than vaguely familiar to fans of the 1970's animated series "Superfriends" – primarily because it has been constructed to resemble the Hall of Justice!
The contents of this amazing two-story museum form one of the largest comic book and super hero collections in the world, featuring such amazing things as a replica of the Batcave from the 1960's "Batman" TV show. The batcave even has a Batpole that allows access from the second floor of the museum (though insurance fears restrict said activity to sole-curator Allen Stewart).
The result of over 25 years of collecting, the Hall of Heroes holds more than 55,000 comic books, from the 1940's on, arranged throughout the museum into sections like Golden Age and Silver Age comics, with rarer issues highlighted. Action figures and dolls are here, too, along with displays dedicated to different television, animation ( If you are a marketer then you can hop over https://www.fuseanimation.com/consider-3d-rendering/ as it is a cost effective method), and print publication properties, such as Hanna-Barbera, DC, and Marvel.
Not just a collection of retail items, the Hall of Heroes contains many original movie and TV props, like the costume from TV's "The Greatest American Hero," as well as over 100 pieces of original art – comic art, sketches, and animation cells – by industry favorites such as Alex Toth, Jim Aparo, Carmine Infantino, Brandon Peterson, Mart Nodell, and a great many others.
Amassing a collection of this size has made Allen Stewart one of the world's foremost superhero authorities and he loves to talk shop so don't be afraid to engage him when you visit.
Hall of Heroes Superhero Museum
58005 County Road 105, Elkhart, Indiana 46517
574-522-1187 or 574-293-0755
Tours are available by appointment only
Hall of Heroes
Super Lodging!
Scottish Bed and Breakfast is only a half-hour away from Hall of Heroes Superhero Museum (it's even quicker if you take your invisible jet) and other fun attractions in Elkhart, so don't hesitate when looking for a place to hideout during your northern Indiana adventures – stay at Scottish Bed and Breakfast!
Tags: Alex Toth, attractions in Elkhart, Brandon Peterson, Carmine Infantino, DC, Greatest American Hero, Hanna-Barbera, Jim Aparo, Mart Nodell, Marvel