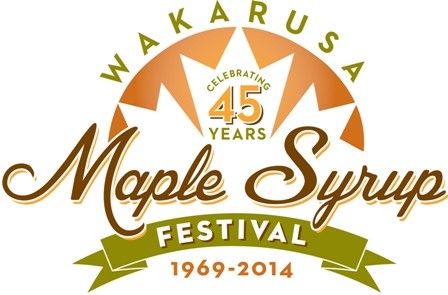 Get your pancakes ready – the Wakarusa Maple Syrup Festival is almost here and promises tons of fun when the sap starts to run! April 25th – 27th, 2014.
What's at the Wakarusa Maple Syrup Festival? A little bit of everything!
First and foremost, however, there's maple syrup! As the weather begins to warm up, the sap in the maple trees begins to drip into the buckets and the sugar houses begin the process of boiling down all that sap into maple sugar, filling the air with the mouthwatering, delightful scent of maple. MMmm – is there any wonder why we celebrate?
Come out and enjoy the all‑you‑can‑eat pancakes and sausage with fresh maple syrup breakfast, the highlight of the festival and a tradition for 44 years! Then there's the all‑you‑can‑eat bbq lunch, the free kettle-popped popcorn at the parade, and so much more! You'll be stuffed to the gills and living life if you make to all the food vendors, meals, and demonstrations at the Wakarusa Maple Syrup Festival.
But the festival isn't all food.
Come learn all about the maple sugaring process by taking a tour of the maple sugar camps and be sure to take a jug of fresh, Indiana maple syrup home with you.
Live entertainment will include vocalist Joanna Beasley Friday night, vocalist Kendall Phillips Saturday afternoon, and you can thrill to the Kent Family Circus just about anytime as they will be putting on 3 shows a day all festival long!
Plus carving demonstrations, an antiques show at Northwood Middle School on Friday and Saturday, and contests! It wouldn't be the Wakarusa Maple Syrup Festival without contests: Wakarusa's Got Talent, Maple Syrup Baking Contest, Pedal Pull, Cross Cut Saw Contest, Bed Race – some of these contests are open, too. Sign up the day of the event and compete for prizes!
So come out and join the fun at the 2014 Wakarusa Maple Syrup Festival. It's less than a half hour away from Scottish Bed and Breakfast and we'd love to host you during your stay.
Wakarusa Maple Syrup Festival
Friday, April 25, 2014 – 10am to 9pm
Saturday, April 26, 2014 – 7am to 8pm
Sunday, April 27, 2014 – 11am to 6pm
For a full schedule and more details, please visit: www.wakarusachamber.com
Tags: Joanna Beasley, Kendall Phillips, Kent Family Circus, maple sugar, Wakarusa's Got Talent