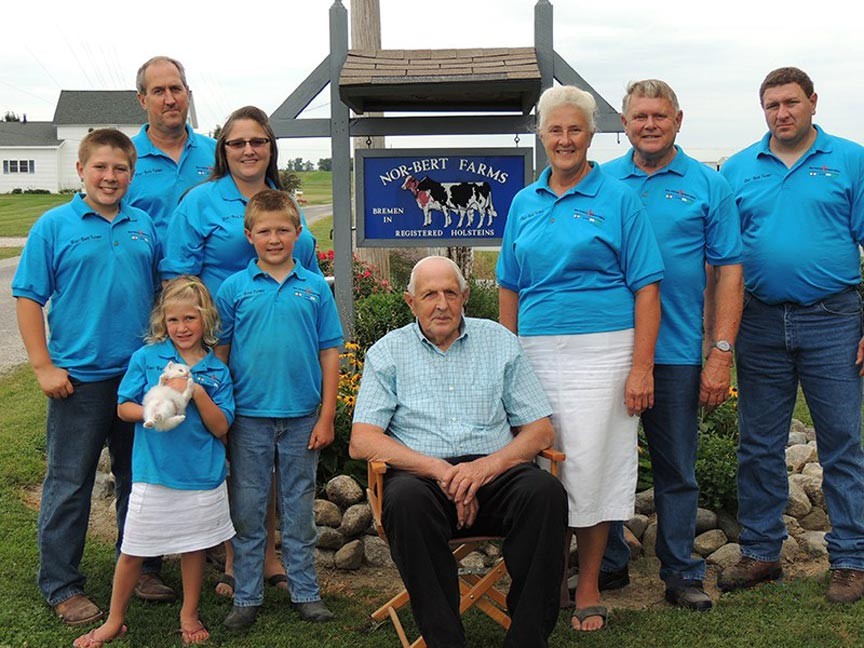 If you missed an opportunity to visit Nor-bert Farms, the Bremen robotic milking farm during last month's open house, don't fret. Nor-bert Farms is our neighbor and we can help set up a tour for you!
The Northern Indiana Dairy Trail held a series of open houses in June that included one of our neighbors, Nor-bert Farms. The Northern Indiana Dairy Trail was celebrating the state's dairy industry as part of Indiana's Bicentennial celebration.
Nor-Bert Farms started up in 1945 with 80 acres of land and eight hand-milked milk cows. The farm was started by Norman and Bertha Krathwohl – Nor-Bert! Today, the farm is run by Deb Dankert, daughter of the Krathwohls, and her husband, Roger. They are assisted by their children and their children's children, too!
Nor-Bert Farms has seen lots of changes over the decades, not the least of which was introducing modern technology into their process. It started with an automatic calf feeder in 2009, then three Lely robotic milkers in 2010.
The innovation of the robot milking machines has allowed the family to more attend to their herd of cows without hiring extra hands. Their farm has 145 head of Holsteins, Brown Swiss, Ayrshires and a few Jersey cows.
The robotic milking machines and allow the cows choose when they want to be milked. Similarly, the automatic calf feeders allow the calves to choose when they want a drink of milk.
These innovations greatly free up the Dankert's time to attend to other farming duties and even have some time off. Besides the dairy, Nor-Bert Farms grows 1100 acres of corn, soybeans, and alfalfa hay. You can see why they'd have their hands over-full without the modern automation!
Bremen Robotic Milking Farm Tours
Nor-Bert Farms are only the second dairy in Indiana to adopt this new technology. This makes their Bremen robotic milking farm quite the novelty! If you want to see them during your stay at Scottish Bed & Breakfast, just let us know. We'll do what we can to set up a time for a tour, depending, of course, on the farm's schedule. Cost is only $5 per person and it is advance reservation only, set-up through Brenda, your Innkeeper here at the Scottish Bed & Breakfast!
Bremen Lodging
Whatever brings you to Northern Indiana Amish Country, Scottish Bed & Breakfast would love to be your host! Our luxurious amenities, spacious lodging, and delicious breakfasts are just the thing to top off your Northern Indiana vacation. Book your stay now!
Tags: Bremen Lodging, Nor-Bert Farms, Northern Indiana Dairy Trail