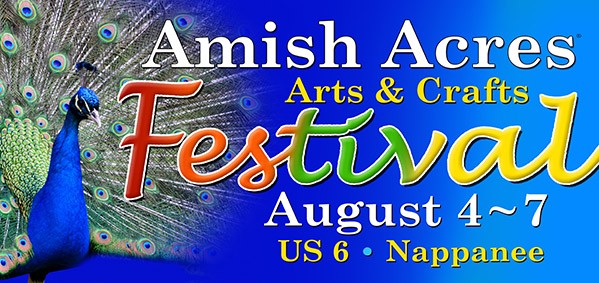 The annual Amish Acres Arts and Crafts Festival is just weeks away and one of the biggest arts and crafts festivals in Indiana. August 4th through the 7th, 2016!
Amish Acres Arts and Crafts Festival never fails to entertain. Now in it's 54th consecutive year, the festival continues to be placed on lists of the top events in the country.
A juried show, the 300 booths of vendors at Amish Acres Arts and Crafts Festival represent over 200 cities and 30 states from across America. Artisans at the show offer a diverse selection of handcrafted arts, crafts, and other goods.
Attendees will have the opportunity to vote for the best booths at the show for the annual Amish Acres Arts and Crafts Festival Competition. Over $5,000 in cash is awarded to the winners chosen from the nearly 600 pieces at the festival.
You'll also find great food at the arts and crafts festival! Delicious, home-style eats that will tickle your taste buds and widen your waistband. Things like apple pie, hamburgers, homemade bread, hand-cranked ice-cream, pickles, roast pork, sassafras tea, and zucchini bread. Yum!
Live acts on four stages will keep you entertained as you shop. Live bands, magicians, square dancing, clogging, and more will keep your toes tapping and your heart light. There are also wandering clowns, jugglers, paddle boat rides and other distractions, should you tire of perusing the booths.
And don't forget: you're at Amish Acres! Listed on the National Register of Historic Places, Amish Acres was originally established by some of Indiana's first Amish settlers.
The working farm has been open to the public since 1970 and now functions as a local attraction. Take a tour, enjoy the rides, and browse the shops. Amish Acres' Round Barn Theatre will be presenting "Plain and Fancy," and "Anything Goes," throughout the festival, too.
What are you waiting for?
Amish Acres Arts and Crafts Festival
August 4th – 7th, 2016
Thursday through Saturday: 9am to 6pm – Sunday, 10am to 5pm
1600 W Market St, Nappanee, IN 46550
www.amishacres.com
Amish Acres Lodging
Scottish Bed & Breakfast, in Bremen, Indiana is just six miles from Amish Acres. We offer beautifully decorated guest rooms, sumptuous gourmet breakfasts, and our signature attention to detail. We also have a game room, swimming pool, and luxurious amenities. Let us be your Nappanee lodging choice for wherever your adventures in northern Indiana Amish Country take you!
Tags: Amish Acres, Amish Acres Lodging, Indiana Amish country, Nappanee lodging, Round Barn Theatre