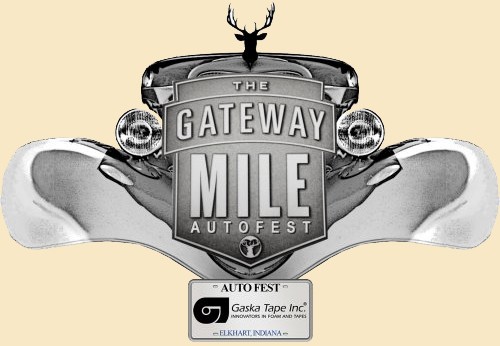 The second annual Gateway Mile Auto Fest is bringing more muscle cars, street rods, and classic cars to downtown Elkhart, July 16th, 2016.
A free festival that saw an estimated 1,000-plus attendees and over 300 cars during last year's inaugural event, this year's Gateway Mile Auto Fest is only looking to be bigger and better. More cars, more vendors, more attractions, and more people are expected.
In other words, more of everything that made last year's event such a screaming success!
This year's theme is "Indiana Built Cars," so expect to see some of those classic, Hoosier-built cars: Duesenbergs, Elcars, Stutz, Marmons, ReVeres, American Underslungs, and – of course! – Studebakers! Of the 48 states outside of Michigan that produced automobiles, only Indiana ever looked like a contender to eclipse its Northern neighbor in car and truck production. It's a history that many simply don't know and the Gateway Mile Auto Fest is only happy to remind us of.
Guests to the festival can expect an opportunity to chat with the car owners, enjoy live music, R/C car racing, a drag-racer 'cracklefest,' and more. Plus you'll be able to enjoy all the shopping, dining, galleries, recreation, and museums that surround the event in downtown Elkhart.
Have a vehicle of your own you want to show off – drive it up! Muscle cars, rat rods, street rods, classic cars, custom cars, original cars, restored or unrestored, trucks, and modern-day marvels all qualify. Registration is quick and easy online at the festival site and you could win a cash prize!
Gateway Mile Auto Fest 2016 is scheduled to run from 10am to 5pm, with setup for participating auto owners beginning at 8am (show-car parking will be on a first-come, first-served basis). A Rolling Cruise precedes the event at 7 to 10pm on the evening of Friday, July 15th.
Gateway Mile Auto Fest
Downtown Elkhart, IN – Saturday, July 16, 2016
For more info and registration, be sure to visit: www.gatewaymileautofest.com
Gateway Mile Auto Fest Lodging
Scottish Bed & Breakfast is just a half-hour's hop, skip, and a jump away from the doings in Elkhart, and we would love to host your stay to our beautiful area! With fireplaces in each room, plush bathrobes, bedside chocolates from the South Bend Chocolate Company, Select Comfort number beds, delicious homemade breakfasts, and more, Scottish Bed & Breakfast is the perfect place to relax and renew when you're visiting Indiana Amish Country. Book your stay with us today!
Tags: American Underslungs, Duesenbergs, Elcars, Indiana Built Cars, Marmons, ReVeres, Studebakers, Stutz