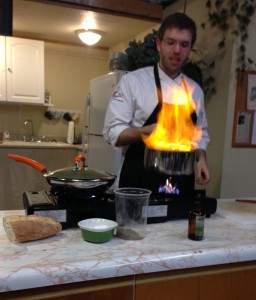 Cooking Up Some Learning
If you like to cook or love to cook, you're going to want to join us Thursday, May 21st at 6 pm at the Shiloh Woods in Plymouth, Indiana for a Cooking Class with Chef Brad Hindsley of the Spire Restaurant in LaPorte, Indiana. Either alone or with a partner, you will craft an entree under Chef Brad's apt tutelage. Once complete, everyone will sit and dine together. Chef Brad's cooking classes are very popular and this is one opportunity to grow in your cooking knowledge that you won't want to miss.
Learning From A Master
"Let the food shine!" exclaims Chef Brad Hindsley. This young, but talented culinary artist sees a lot of beauty in food itself. In fact, his growing-up on a hobby farm is what he attributes to gaining a real appreciation for the beauty of food, where he often assisted in picking tomatoes, green beans, and corn. He explains that snapping those green beans and shucking the corn induced in him a kind of appreciation that led to his fascination with preparing food.
After graduating from high school and assisting with a church kitchen that fed 80 people a day, Brad determined to further his cooking education at Robert Morris University. Among his credentials are an Associate's Degree in Culinary Arts and a Bachelor of Business Administration Degree in Hospitality Management. Finally, it was in 2012 that Chef Brad opened the Spire Farm-to-Fork Cuisine at the Legacy Hills Golf Club.
Reserve Your Room and Your Spot in the Class
With only 16 spots available (that is, 8 two-person teams) and at only $30 per person, your chance to be in on the fun might escape you if you don't act quickly. Give Brenda a call at (574) 220-6672 or email her at the Scottish B&B to reserve a room and your spot in the class.
NOTE: Only individuals who reserve a room can sign up for the cooking class.
Don't wait. This opportunity to learn from Chef Brad Hindsley is sure to entertain, educate, and delight!
Tags: chef brad hindsley, culinary arts