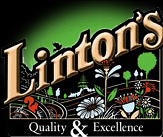 When you need to getaway, sometimes it's nice to know that you can have fun when you get there. A change of scenery, perhaps a lively, entertaining jaunt is just what the doctor ordered to recharge your batteries and set the world right again. Linton's Enchanted Gardens in Elkhart, Indiana is the place to do that.
About Linton's Enchanted Gardens
Linton's Enchanted Gardens isn't that far up the road from Bremen, Indiana, where we're located.
This isn't your typical nursery. Sprawling across 9 acres, there are resplendent and myriad-colored display gardens to inspire the horticulturist in you and, perchance, turn that thumb of yours green, or perhaps make it greener than it was before. Nature is the setting and focus of the Gardens, and the peripheral enjoyments are numerous: fountains, wind chimes, garden art, exotic birds aviary, and a free petting zoo featuring miniature animals. Wending throughout ancient trees in the garden is Pine Creek, and if you love koi, you'll find a gorgeous, maintained pond where you can stop, feed them, and perhaps reflect for a bit while observing the effortless swimming of those coveted Japanese fish.
What's more, the business itself has a tremendous philosophy that guides all it does. Clearly quality and excellence drive it to increase engagement with communities and visitors from all over, which makes Linton's a focal point and fine representative of the great things Indiana has to offer.
Linton's has an ongoing schedule of events throughout the year to make visiting it a real treat!
New Attractions to Enjoy This Season
Linton's continues its tradition of offering quality and excellence to its patrons. This year they've gone all out adding new attractions and events, and it appears folks will be able to have lots of fun. So what's new?
Water Orbs:
Want to know what it feels like to walk on water? Try these 8′, inflatable orbs, and defy gravity while having fun.
Swan Paddle Boat:
4-person boat rides in the lovely swan paddle boats are sure to bring about some fun on the water.
Gem Stone Mining:
Grab a bag of "rough" for $5.99 and get the experience of panning for gemstones. With your gemstone identification chart, you'll be able to spot any great finds.
Enchanted Gardens Express Train Rides:
Enjoy the 15 minute narrate train ride around the 9-acres of the Enchanted Gardens for only $3.99.
Hand Pedal Train:
Newly added for the kiddos, they can entertain themselves as they pedal around the train track.
Hen House Hoedown Shooting Gallery:
Are you a good shot? Find out as you "shoot" at moving targets inside the Linton's Enchanted Gardens facility. Pistol or rifle: you decide. Get your shot in starting at $2.00 a game.
Events Promise Spring Fun, Celebration, and Patriotism
Seems like there is always something happening at Linton's. Probably because there is. Check out their newsletter for a complete list of Newsletter Spring 2015. Here are just a few of the forthcoming events over the next couple of months:
May 9-10 (Saturday and Sunday): Mother's Day Extravaganza
May 23-25 (Saturday and Sunday): Memorial Day Sale: Red White & Bloom!
June 6-7 (Saturday and Sunday): Spring Carnival Days
June 13-14 (Saturday and Sunday): Pirate Adventure
June 20-21 (Saturday and Sunday): Father's Day Sale
Get the latest on upcoming Events at Linton's at Linton's Enchanted Gardens.
Stay With Us While You Visit
Linton's is but a half-hour drive from Scottish Bed & Breakfast. So while you're visiting those enchanted gardens, why not also visit our enchanting B&B. We have comfortable, professionally maintained accommodations that serve your relaxation needs, and after a fun day of activities, we offer a quiet place of rest so you can recharge your batteries for the next day of fun. Reserve a room with us, we'd love to have you as our guest!
Tags: Enchanted Gardens Express Train, Gem Stone Mining, Shooting Gallery, Swan Paddle Boat