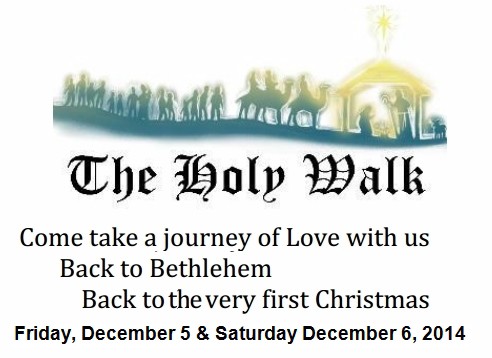 How would you like to visit the world of the Nativity? To not just view statues of it from the sidelines but actually enter into that very first Christmas in Bethlehem? You can at the Bremen Holy Walk!
We all know the Nativity – it's everywhere this time of year from big displays in people's yards, to tiny ones on their mantle, to re-enacted versions on television specials – but to be able to actually travel back in time to witness the Nativity … now that would be something.
And that's where the annual Bremen Holy Walk comes in with the very next, best option: a chance to experience a Bethlehem and Nativity scene re-enactment in Northern Indiana's Amish country!
Held every year, for more than 30 years, by the Bremen United Methodist Church, the Bremen Holy Walk opens a doorway through time to that very first Christmas, complete with Roman soldiers, Bethlehem townspeople, Wise Men, animals, Joseph, Mary – and the newborn King.
At the Bremen Holy Walk, you'll travel by foot through the cold of winter towards your goal of the town of Bethlehem, just as Joseph and Mary did to be counted for the Roman census. Along the way, you'll witness the Angel of the Lord bringing the good news to shepherds in the field. Upon reaching Bethlehem, you'll be counted for the Roman census, turned away at the inn, and hear the good news of Christ's birth as you make your way through town towards the stables. There, amongst the straw and the animals, before the assembled Wise Men and people of Bethlehem, the miracle of Christ's birth and the very first Christmas will be before you at this lowly stable.
The Bremen Holy Walk re-enactment is a true experience and not for those unable to make an hour's long walk through the cold dark of farmers' fields. The Bremen Holy Walk is not handicap accessible – but it is just about as close to experiencing that very first Christmas as you're ever likely to get – and, when you're done, you can come back to the Scottish Bed & Breakfast for some hot cocoa by the fireplace in your room!
Bremen Holy Walk 2014
December 5th and 6th
For more details, please visit: www.bumchurch.org
Bremen Holy Walk Lodging
Scottish Bed & Breakfast will not turn you away to sleep in a stable during Christmas – or any other time! Our comfortably spacious lodging, warm and luxurious amenities, and nutritious breakfasts make your stay at Scottish Bed & Breakfast uncommonly relaxing. Make us your home base for all your Indiana Amish Country getaway adventures – and have a Merry Christmas!
Tags: Amish Country getaway, Bremen Holy Walk Lodging, Indiana Amish country