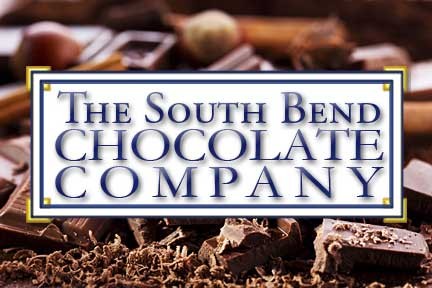 Chocolate is a wonderful holiday treat that makes a great gift, and The South Bend Chocolate Company not only makes wonderful chocolates but also a day's outing with tours of their chocolate factory and chocolate museum!
A lot of people immediately picture Willy Wonka's when they hear "chocolate factory tour" but, while the South Bend Chocolate Company doesn't employ Oompa Loompas, have a river of chocolate, or use a great, glass elevator to get around their building, it's still a fun and fascinating place to tour!
The South Bend Chocolate Company was founded in 1991 and initially made chocolates under license from the University of Notre Dame. Its first three products – the "Domer," "Rockne," and "Nuts for ND" – were so popular that the company was able to expand and now has over 500 different items for sale in 17 locations throughout Indiana, Michigan, and Ohio.
If you've never visited a chocolate factory before, you may not be prepared for the smell. It is a maddeningly delicious odor and explains why the South Bend Chocolate Company gives away samples with their tours: they'd have to be sadistic not to!
A tour of the South Bend Chocolate Company will fascinate and educate you with chocolate lore, demonstrations on the mechanics of chocolate candy manufacture, and give you plenty of opportunity to sample product. Yum!
At the end of the tour you can stop off in the store if you like (how could you resist?) and pick up some goodies for yourself as well as gifts for others at a 10% discount – what a treat!
The South Bend Chocolate Company offers two types of tours – a 45 minute "Inside Scoop Tour" for a small fee, and a 20 minute, free "Basic Tour." Either is a great way to spend an afternoon in South Bend.
The South Bend Chocolate Company
3300 West Sample Street, South Bend, IN
Monday through Friday from 9am to – 4pm
Saturdays from 9am to 2pm
Closed on Sunday and all major holidays.
Northern Indiana Lodging
The South Bend Chocolate Company is less than a half hour's drive from Scottish Bed & Breakfast in Bremen, Indiana. Scottish Bed & Breakfast is your home away from home during any Indiana Amish Country getaway with a full-size, indoor swimming pool, event facility, Select Comfort Number king or queen beds, a television and DVD player, fireplaces, and climate control in every room – not to mention our delicious, home-cooked breakfasts! Book your stay at Scottish Bed & Breakfast, now!
Tags: Amish Country getaway, chocolate factory, chocolate factory tour, chocolate museum, South Bend Chocolate Company