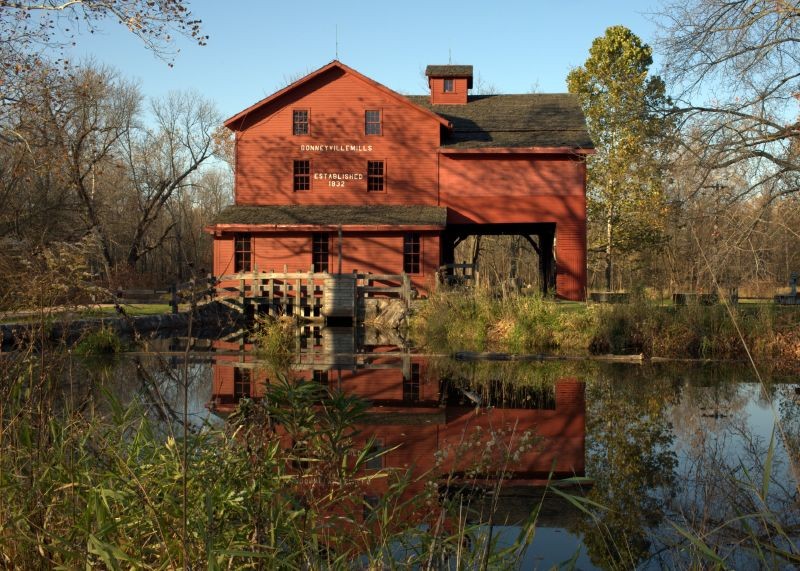 Vacation time is often described as an attempt to break out of the daily grind – well, what if I told you that you could accomplish that very thing by visiting a daily grind? Bonneyville Mill, a historic grist mill in Bristol, IN that still grinds corn, wheat, rye and buckwheat the old-fashioned way: slowly and methodically with massive grist stones.
Bonneyville Mill, in the center of beautiful, Bonneyville Mill County Park, is a functioning grist mill and fascinating window to the past that you can visit and tour. It's historic facilities are open to visitors May through October, while the expansive park it is in is open year-round!
Established in the early 1800's, Bonneyville Mill produces quality, stone ground flour in basically the same way it always has for over 150 years, using a horizontal water wheel. Of course, while grist mills produce as good, if not better, quality flour as more modern roller mills, they do so much more slowly – and staying this traditional has come at a heavy cost.
Bonneyville Mill chose to eschew the advancing technology of the 1880's, preferring to remain as they had always been: content to serve local farmers and merchants. When that ceased being enough, the owners of Bonneyville Mill formed the Bonneyville Power and Electric Company, supplying hydroelectric power to a small cluster of local customers along with making livestock feed, fertilizer, and their "Famous Buckwheat Pancake Flour."
Over time, even these gambits proved ineffective and Bonneyville Mill's owners were forced to sell out. Luckily, the mill was preserved and eventually placed on the National Register of Historic Places. Now Bonneyville Mill is a working example of history in the center of a beautiful park – Bonneyville Mill County Park – that yearly welcomes over 30,000 visitors to tour the historic facility, enjoy the 223 acres of park grounds with its numerous trails and various landscapes, and purchase a variety of historical and natural items from the gift shop.
Bonneyville Mill and County Park
53373 County Road 131, Bristol, IN
Bonneyville Mill is open May through October, Wednesday through Sunday, 10am – 5pm with guided tours available Monday through Friday.
Bonneyville Mill County Park is open daily year-round.
Bonneyville Mill Lodging
Scottish Bed & Breakfast is located a short distance from Bristol, Indiana's Bonneyville Mill County Park and would love to be your host for any and all of your Northern Indiana adventures! We offer such wonderful amenities as fireplaces in each room, plush bathrobes, bedside chocolates from the South Bend Chocolate Company, Select Comfort number beds, delicious, homemade breakfasts, and so very much more! Scottish Bed & Breakfast is the perfect place to relax and renew in Indiana Amish Country. Book your stay with us today!
Tags: Bonneyville Mill County Park, Bonneyville Mill Lodging, Indiana Amish country, Northern Indiana adventures