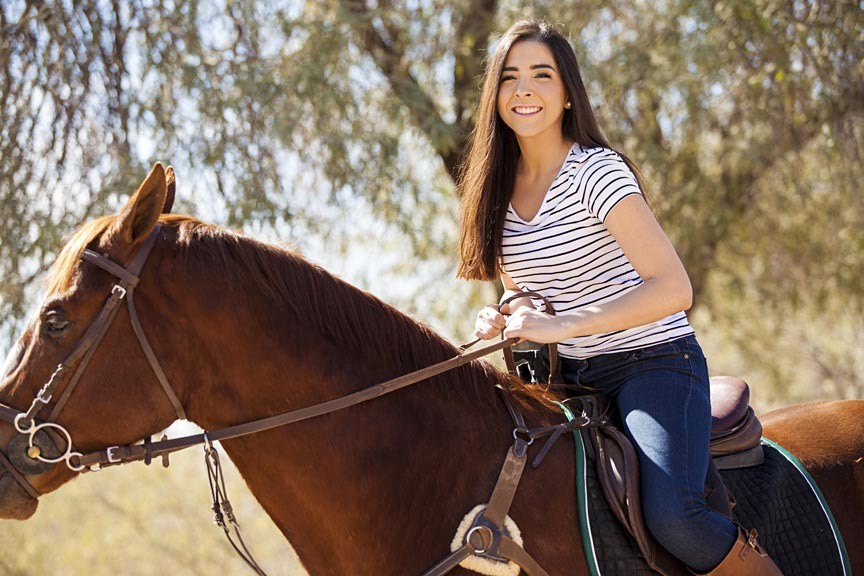 What better way to get out into the great outdoors and forget your cares than an Indiana horseback riding adventure!
Nothing is as fun and relaxing as getting up in the saddle of a friendly, well-cared for horse and going for a trail ride. Something about the feel of that big, beautiful animal moving beneath you as you both work together, taking in all that fresh air – a wonderful sport!
If you've never been in the saddle before, you might not think of simple horseback riding as a sport – but it takes balance, strong legs, and a stable core to ride well. Horseback riding can be a serious – or light – workout and it is a great way to spend some quality time in the great outdoors.
Just your luck, we can help you have that Indiana horseback riding adventure: The Riding Stable is only ten minutes from Scottish Bed & Breakfast!
The Riding Stable is a locally owned and operated business that offers a safe and fun environment for both horse and rider. The Riding Stable has been in business for 4 years and offers trail rides, horseback riding lessons, and even horse boarding.
If you're looking for a relaxing afternoon outing, want to brush up on your riding skills, or have never even been on a horse before but are curious, they can help! The Riding Stable offers lessons for all levels of riders in a variety of disciplines – so there's no need to be shy or nervous!
The best part is that The Riding Stable has agreed to partner up with Scottish Bed & Breakfast for your Indiana horseback riding adventures. Simply call us and ask about horseback riding. We'll get things set up for you so that your time here is spent doing, not planning or waiting!
Whatever your horseback riding desires, Scottish Bed & Breakfast and The Riding Stable can satisfy them!
To learn more about The Riding Stable, visit their website at: theridingstable.com
Tags: Amish Country horseback riding, horseback riding in Indiana, Riding Stable