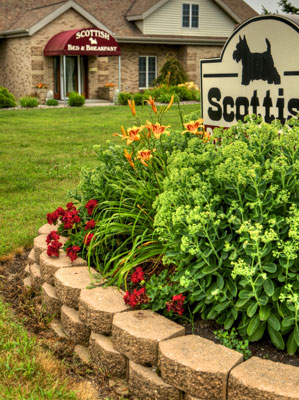 There are so many ways for you to stay and save with our add-ons and specials at Scottish Bed & Breakfast that we thought it would be a good idea to highlight some of them for you!
Multi-night stays pay off at Scottish Bed and Breakfast with our Stay 3 nights and receive $30 OFF, stay 4 nights receive $40 OFF, what a DEAL! While these offers are not valid on festival dates or Notre Dame Weekends or Notre Dame events and can't be combined with any other promotions, they're still a great value!
Looking for a little boost in the petrol department? Tanks For the Memories gets you a $20 gas card for a stay of two nights or more. Sweet deal! (cannot be combined with any other offer and not offered during Notre Dame events or local festivals).

In Bremen or Nappanee on business? Use our Business Travelers Special to save money. Our special corporate rate of $79 + tax is available Sundays through Thursday nights at the inn. This rate is based on a single occupancy and includes a hot, delicious breakfast each morning at the time you want it. Who wouldn't rather stay at a unique and homey bed and breakfast than a cold, impersonal old hotel or motel?
Looking for a little time away with just the girls? NO husbands, NO kids, NO distractions – just you and your best girlfriends, doing what you do. Then the Girlfriend Getaway Package at Scottish Bed & Breakfast is for you! Only $50.50 per lady, per night (tax included) with a minimum of 4 – maximum of 11 – ladies. Watch movies, eat popcorn, play games, shop, chat, eat, and whatever else your hearts desire. What fun!
And if you scrapbook or quilt, we have specials at Scottish Bed & Breakfast for those, too!
Our Scrapbooking or Quilting Retreats include use of a 2000 square foot room with a kitchenette with refrigerator, sink, and microwave oven, serving bar, lounge area, 6 foot and 8 foot tables, chairs, bright lighting, and lots of electrical outlets with only a two night minimum lodging required! Party on, girls! Plus, when you stay two nights or more, you can have a FREE Pizza Party … On Us that first night! Bring in your own food for dinner, your favorite snacks, beverages and goodies to share – what a great way to spend time with friends!
Specials at Scottish Bed & Breakfast
We're barely scratching the surface of the available specials at Scottish Bed & Breakfast, not to mention our room add-ons! Check out the details then decide which combination works best for your getaway to Scottish Bed & Breakfast here in Bremen, Indiana.
See you soon!
Tags: add-ons and specials, Business Travelers, getaway to Scottish Bed & Breakfast, Girlfriend Getaway Package, Multi-night stays, Scrapbooking or Quilting Retreats