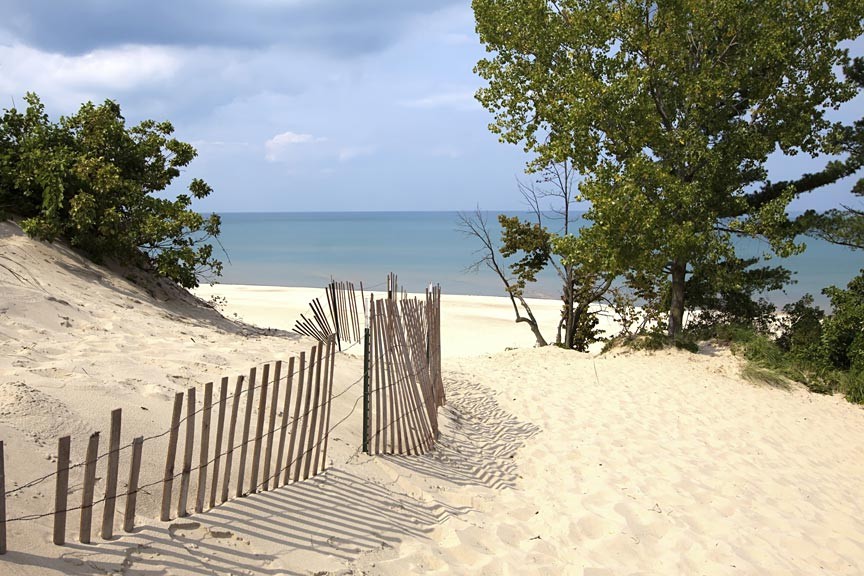 Have you heard the singing sands?
The Indiana Dunes National Lakeshore, on the southern edge of Lake Michigan, has singing sand – and you have to hear it to believe it.

Lake Michigan's beaches are known for their singing sands – yet, to hear the sound, one is more likely to think of barking than singing. That or my musical tastes differ from those who named the phenomenon …
In any case, one of the more interesting facts about singing sand is that no one's quite sure why it sings. The sound occurs when dry sand grains of a certain size and shape, and at a certain humidity, are rubbed against each other, such as when bare feet scuff through them – but that is about all that is known for sure.
Lake Michigan's singing sands are unique but they are hardly the only attraction that makes visiting the Indiana Dunes National Lakeshore a one-of-a-kind experience.
Take Mount Baldy, for example.
Mount Baldy, is the largest "living" sand dune at Indiana Dunes National Lakeshore. Standing an impressive 126 feet tall, Mount Baldy moves south at a rate of four feet each year. We're waiting for the day it shows up in Bremen and asks for a room …
Outside of singing sands and wandering dunes, Indiana Dunes National Lakeshore contains 15,000 acres of swamps, marshes, dunes, prairies, rivers, and forests. It is home to more than 1,400 plant species – more per acre than any other National Park! And talk about bird life – more than 350 species have been observed here!
With 45 miles of dune trails, 15 miles of shoreline, a profusion of wildflowers in the spring, fantastic colors in the fall, a host of wild birds, and cross country skiing in the winter, Indiana Dunes National Lakeshore is an outdoor enthusiast's year-round destination.
Indiana Dunes National Lakeshore
For more details and park info, please visit: www.southshorecva.com
South Shore Lodging
Lake Michigan is a mere 45 minutes from Scottish Bed and Breakfast and we'd love to host you, so reserve a room and be sure to check out our specials. See you soon!
Tags: Lake Michigan Indiana, Mount Baldy dune, South Shore Indiana Lodging, The Indiana Dunes National Lakeshore