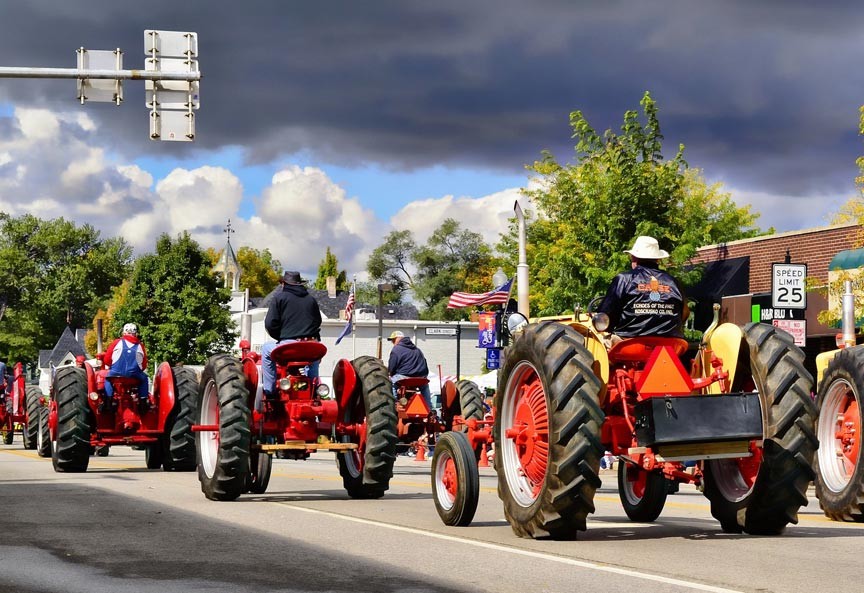 Springtime in Northern Indiana – flowers are in bloom, the 2016 Round Barn Theatre Season is in full swing, and Shipshewana MayFest 2016 is right around the corner, May 6th & 7th!
Spring in Indiana Amish country is always a lovely time, everything is greening up and smelling so sweet and clean. It's a wonderful time to get out of doors and the Shipshewana MayFest 2016 is as good a way as any to spend out and about in the fresh air.
Shipshewana MayFest is fun, food, contests, and parades in the time honored tradition of small-town America. The weekend starts off Friday morning with live entertainment and food at the main tent all day long.
Then on Saturday, May 7th, things really get going with a benefit pancake and sausage breakfast, a 3 on 3 basketball tourney, and a 5K Road Run, followed at 10am by the MayFest Parade Grand Parade.
The MayFest Parade Grand Parade is the highlight of the weekend. It starts from the North Gate of the Flea Market grounds and includes floats and horses, marching bands, funny cars, lawn-chair brigades, and more. There are easily 100 entries or more every year. Great fun.
Attractions after the parade include live entertainment and food at the main tent, local talent competition, buggy races, puppet shows, art awards, games, a garden tractor pull, arts and crafts, and much more. The day is capped off with evening concerts by two different bands!
Further, the Shipshewana Garden & Antique Outdoor Show is held on May 7th at the Shipshewana Trading Place Antique Mall lawn and under the Shipshewana Trading Place Pavilion as part of MayFest. As the name implies, the show features plants, flowers, and landscape items, along with antiques, primitives, furniture, textiles, and tons more.
May 7th is also the date of the 2016 After MayFest Parade, which is a Cruise In held at the Shipshewana Trading Place Pavilion immediately following the MayFest parade. If you love beautiful, unusual, or antique cars, come on down to the Cruise In – you may even win a door prize!
The theme for Shipshewana MayFest 2016 is Happy Birthday Indiana!
Did you know that 2016 was the Indiana Bicentennial? That's right, Indiana was admitted to the United States 200 years ago on December 11, 1816 as the 19th U.S. state! There will be celebrations and events all year long, culminating with a big event at the state capital in December.
Celebrate Indiana's 200th Birthday – Shipshewana MayFest 2016
May 6th & 7th, 2016
Downtown Shipshewana – www.shipshewana.com
Shipshewana Lodging
Scottish Bed & Breakfast is located in Bremen, IN – a very easy and pleasant drive from the Shipshewana and many other Northern Indiana attractions. Scottish Bed & Breakfast is an Amish Country B&B with spacious and comfortable lodging, delicious breakfasts, and a refreshing heated indoor pool. Our peaceful location on two acres in Bremen makes us an ideal home base from which to go exploring. Come see us!
Tags: 2016 Round Barn Theatre Season, Indiana Bicentennial, Shipshewana Garden & Antique Outdoor Show, Shipshewana Lodging, Shipshewana Trading Place Pavilion