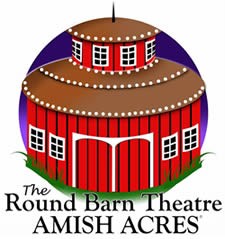 Amish Acres' Round Barn Theatre has released the schedule of its upcoming, fun-filled 2015 season: The Circle of Life Season: Round and Round We Go!
Northern Indiana's only professional repertory theatre company, the Round Barn Theatre at Amish Acres has produced well over 100 musicals since 1998 and has garnered rave reviews and a sterling reputation in the process.
2015's schedule makes it clear they intend to continue the tradition!
The Round Barn Theatre 2015 Season
The Marvelous Wonderettes
April 15th through May 24th
This Off-Broadway smash hit takes us to the 1958 Springfield High School Prom where we meet the Wonderettes. As we learn about their lives and loves, we are treated to the girls performing classic 50's & 60's hits such as "Lollipop," "Dream Lover," "Stupid Cupid," "Lipstick on Your Collar," "Hold Me, Thrill Me, Kiss Me," "It's My Party," and over 20 additional hits! You have never had this much fun at prom, and you will never forget this must-take musical trip down memory lane.
Plain and Fancy
May 27th through October 17th
A New Yorker and his sophisticated girlfriend drive down around Lancaster, Pennsylvania, to sell a piece of property. Here they meet the Amish folk, whose convoluted English speech, clothes and habits haven't changed for centuries. The clash of cultures educates and entertains at the same time in this quaint musical comedy.
Grease
June 9th through July 19th
Grease tells the story of "Bad Boy" Danny Zuko and his unlikely love affair with "Girl Next Door" Sandy Dumbrowski. As they navigate the complexities of love in 1958, the Burger Palace Boys and Pink Ladies tackle many other social issues including friendship, gang violence, and teenage pregnancy. The Grease songbook features such favorites as "Summer Nights," "Grease Lightning," and "It's Raining on Prom Night."
Anything Goes
July 28th through Aug 30th
When the S.S. American heads out to sea, etiquette and convention get tossed out the portholes as two unlikely pairs set off on the course to true love, proving that sometimes destiny needs a little help from a crew of singing sailors, an exotic disguise, and some good old-fashioned blackmail. One of the greatest musicals in theater history, Cole Porter's classic score features many popular standards; including "I Get a Kick Out of You," "You're the Top" and, of course, "Anything Goes."
Smoke on the Mountain
September 8th through October 18th
Smoke on the Mountain tells the story of the Sanders family and their Saturday Night Gospel concert at the Mount Pleasant Baptist Church in 1938. Though they try to appear perfect to the congregation, a sequence of "witnessing" from the each family member reveals their true and hilariously imperfect nature. Featuring over two dozen rousing southern gospel and bluegrass songs as sung and played by the Sanders family.
Harvey
October 21st through November 8th
When Elwood P. Dowd starts to introduce his imaginary friend, Harvey, a six-and-a-half-foot rabbit, to guests at a society party, his sister, Veta, has seen as much of his eccentric behavior as she can tolerate. She decides to have him committed to a sanitarium to spare her daughter, Myrtle Mae, and their family from future embarrassment. A Pulitzer Prize winner, this play was famously adapted for the big screen, starring Jimmy Stewart and Josephine Hull.
Mary Poppins
November 13th through December 31st
Based on P.L. Travers popular children's books and the 1964 film starring Julie Andrews and Dick Van Dyke, Mary Poppins is always a delight, filled as it is with timeless classics such as "Feed the Birds," "Jolly Holiday," "Step in Time," and the Academy Award winning "Chim-Chim Cher-ee."
For more details and tickets, please visit The Round Barn Theatre online at: www.amishacres.com
Round Barn Theatre Lodging
Amish Acres' Round Barn Theatre in Nappanee, Indiana is only 10 minutes away from Scottish Bed & Breakfast. Making us your homebase for all your Northern Indiana adventures couldn't be smarter. Our luxurious amenities, spacious lodging, and delicious breakfasts will show you why. Book your stay now and start planning your 2015 Amish Country getaway!
Tags: Amish Acres, Amish Country getaway, Northern Indiana adventure, Round Barn Theatre 2015 Season, Round Barn Theatre Lodging