Food and Fun in the Heart of Northern Indiana Amish Country
The Blue Gate Restaurant & Bakery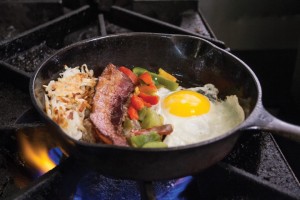 is part of the Riegsecker Marketplace of Shipsewana, less than an hour's drive from Bremen, Indiana. Infused with Amish culture and atmosphere, the Restaurant is a popular attraction for anyone seeking a traditional, made-from-scratch meal.
The Riegsecker Marketplace has a rich history and captivating story about its humble beginnings that blossomed into a well-rounded shopping and dining venture in the heart of Amish country. Of course, part of that history is the birth of Bluegate Restaurant & Bakery, which began as Der Strudel Haus. Opened in the mid 1980's, the Blue Gate originally had one dining room and 50 seats. As it grew to accommodate more patrons, it was clear a ground-up renovation was needed, so the original was torn down after 20 years and a new building erected in its place which boasted the capacity to offer 1200 seats, 9 dining rooms, and a fully functioning Bakery and theater.
Open Monday through Saturday, 7:00 a.m. to 8:00 p.m., the Blue Gate offers dozens of mouthwatering entrees, desserts, and confections at a price range of $3.00 to $8.00, making it a prime selection for inexpensive and, yet, delectable fare. Diverse dietary needs are also accommodated, ensuring that those who need to dine wheat-free, dairy-free, gluten-free, or MSG-free can do so without narrowly confining the number of their entree choices. And with entertainment and shopping nearby, the Blue Gate can be a source of nourishment throughout the day as you and yours enjoy the many offerings of the Riegsecker Marketplace.
To fully enjoy your visit to the Blue Gate Restaurant & Bakery, book a room with Scottish Bed & Breakfast. We offer delightful, comfortable, and clean lodging that suits all manner of travelers. After a fun-filled day at the Riegsecker Marketplace, come rest your head in one of our rooms and recharge your batteries for the trip home or, better yet, another day of wholesome fun.