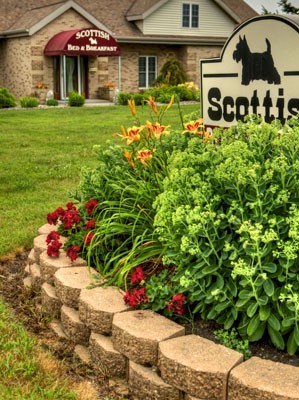 The Culver Academies campus, less than 30 minutes away from us in Culver, IN, contains a popular set of college preparatory schools and leadership camps serving students in grades 9 through 12. Scottish Bed & Breakfast is proud to offer Culver Academies lodging to the families of these fine students.
Culver Academies – including Culver Military Academy, Culver Girls Academy, and Culver Summer Schools and Camps – offer not just top academics and competitive athletics to serious minded students but also a sense of leadership and responsibility as a global citizen that will last well beyond a student's school days.
Founded in 1894, Culver Military Academy has since expanded to encompass all potential students, grades 9 through 12, who are looking for a challenging environment to better develop their mind, spirit, and body.
When it comes to Culver Academies lodging – whether you're here during orientation, graduation, or just to visit – you could choose a hotel or motel smack dab in the midst of the hustle and bustle of town, or a bed and breakfast in a quiet and peaceful setting like ours.
Scottish Bed & Breakfast is located in Bremen, IN – less than half an hour's drive from the Culver campus. Nestled on a calm, charming park-like setting in Northern Indiana's Amish country, you'll enjoy luxury like our "Select Comfort" king or queen size mattresses, a TV/DVD in every room, and WI-FI throughout.
We also feature an indoor full size swimming pool (available to guests April 1st through November 30th), a putting green for you golf lovers, and a whirlpool tub in our King Suite! Your complimentary full breakfast each morning features fresh Amish farm eggs from range fed chickens, hormone free bacon, and gourmet coffee. Our delicious coffee is available all day and fresh-baked snacks are served in the evening.
When it comes to Culver Academies lodging, you'll be hard pressed to find any more comfortable and welcoming to you and your family than Scottish Bed & Breakfast. Conveniently located, you'll experience hospitality with us like you've never known before.
So do yourself a favor – if you're a fan of style, comfort, service, and convenience, use Scottish Bed & Breakfast for your Culver Academies lodging – you wont be disappointed!
Tags: Culver Girls Academy, Culver Military Academy, Culver Summer School