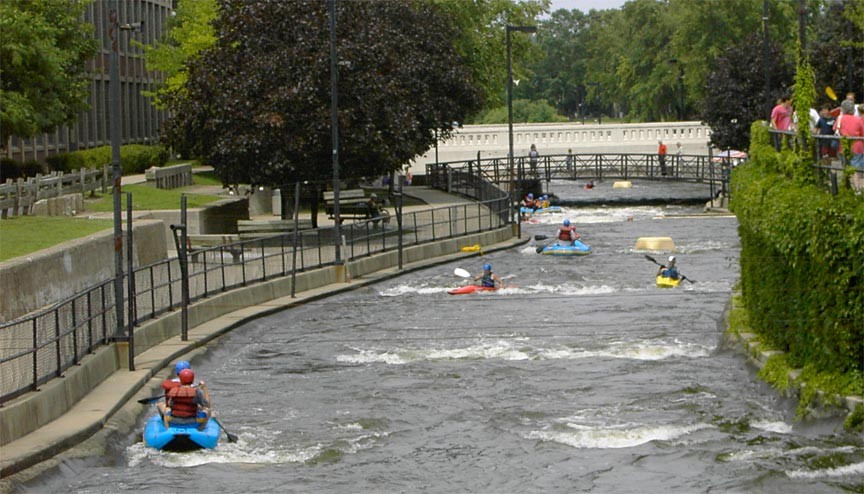 Yes, you read that right – you can go Whitewater Rafting in South Bend, Indiana – downtown South Bend! – thanks to the East Race Waterway.
East Race Waterway, on Niles Avenue, allows you to go whitewater rafting in South Bend in a kayak or raft, solo or in a group, beginner or advanced. South Bend Parks & Recreation supplies all the equipment for a modest fee.
The East Race Waterway is 1,900 feet long and its entire length is within easy view of the street above. Part of a multiple park system, East Race Waterway also includes playgrounds, picnic facilities, more than 5 miles of paved & lighted walking/running paths, a climbing wall, and bicycle and street strider rentals – all in downtown South Bend.
East Race Waterway opened in 1984 after two years' construction. East Race waterway runs at a flow of 450 – 500 cubic feet per second, earning the course a whitewater scale rating of 2. Rubber soled shoes with a heel strap are required and prepare to get soaked! Children under the age of 16 and meeting the minimum height requirement of 54″ must be accompanied by an adult in the raft.
A fish ladder for the seasonal runs of Chinook salmon and steelhead trout is part of the East Race Waterway and seasonal fishing for Chinook salmon, steelhead trout, and small-mouth bass is available nearby. Restrooms, a bandshell ampitheatre, complete the facility.
More than 280,000 people have enjoyed East Race Waterway since it opened.
Whitewater Rafting In South Bend, IN
June 7th to August 10, 2014
Saturdays 12-5, Sundays 12:30-4:30
For more information and pictures, please visit: sbpark.org/parks/east-race-waterway
South Bend Lodging
East Race Waterway and whitewater rafting in South Bend is less than a half hour from Scottish Bed & Breakfast, allowing you the opportunity to enjoy urban adventure in downtown South Bend and the serenity of Indiana Amish Country for your downtime. Come experience the best of both worlds with a stay at our charming Indiana Amish Country bed and breakfast.
Tags: East Race Waterway, Indiana Amish Country bed and breakfast, South Bend Lodging