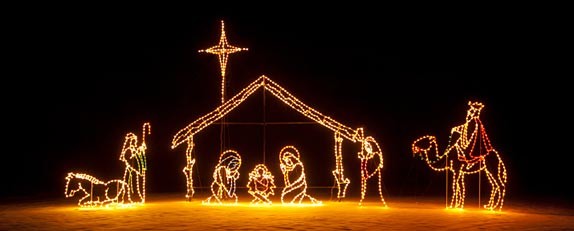 We've all seen the Nativity and know the story of Mary and Joseph's plight in Bethlehem that very first Christmas. Cold, hungry, and in need of shelter after a long day's travel, they were turned away from the inn and forced, instead, to stop for the night in a lowly stable. There, thanks to the straw and animals, they were able to draw some warmth and, of course, the miracle of Christ's birth occurred: the very first Christmas.

Reading about it, seeing the Nativity scene, watching movies about it may give us some idea of the story … but it's just an idea. We are still on the outside looking in at something profound. Something that means so very much to us. What was it like? How can we get closer?
The Bremen Holy Walk, held every year around Christmas, is your passport to experiencing something like that very first Christmas.
Travel, as Joseph and Mary did, through the cold of winter towards their goal of the town of Bethlehem. Watch as the Angel of the Lord addresses the shepherds in the field. Be counted for the Roman census by callous, Roman soldiers. Enter "Bethlehem" only to be turned away at the inn. Walk through the village and see it come alive with the good news of Christ's birth. Then, finally, approach the wonder of the stable and see Joseph, Mary, the animals, the Wise Men, and the newborn King.
Bremen Holy Walk
December 20th and 21st
For more details, please visit www.bumchurch.org
Lodging in Bremen, IN
Whether you're coming to Bremen for Christmas or any time or reason, Scottish Bed and Breakfast is here to welcome you! Unlike that inn in Bethlehem, we'll not turn you away! Our attention to detail, amenities, and nourishing breakfasts will help to make your stay one of the best ever – we look forward to meeting you!
Tags: Bremen Holy Walk, Bremen Lodging, Bremen United Methodist Church, Christmas in Bremen, Christmas Lodging