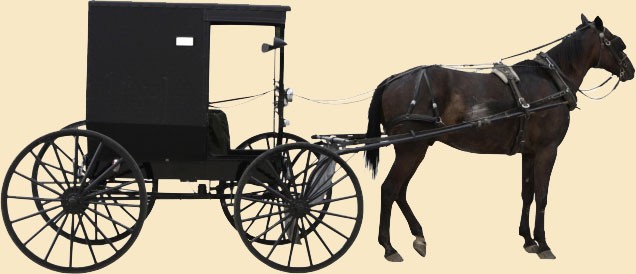 Who doesn't occasionally wish for a chance to catch their breath, to take things at a slower pace, to live a simpler life without all the noise and bustle of our 24-7, media-circus, e-lives? Well, now you can with Scottish Bed and Breakfast's authentic Amish dinner and buggy-ride!

Witness the simple, wholesome beauty of the Amish way of life by visiting them at home. Experience dining in a traditional, electricity-free farmhouse, hosted by a people living the same way their ancestors did 200 years ago. Savor a home-cooked meal with ingredients pulled straight from the farm and recipes held in the family for generations. Leave the honking whirl of traffic behind to experience the gentle clip-clop of a horse pulling you down an old country road in an Amish buggy. You'll swear you've landed in the 1800's.
Our Amish-immersion experience is facilitated through a partnership with the local Amish farms and is the perfect add-on to your stay. Having dinner with a real Amish household, then taking an authentic horse-and-buggy ride, is not just a novelty but a chance to explore what this lifestyle is all about. Don't be afraid to ask questions – our neighbors are happy to explain their way of life and welcome the opportunity to be quench your curiosity about the how's and why's of 'old Amish order.'
Visiting Amish country can have a profound effect upon how you see yourself and the world, so great a contrast is it from the modern noise of most of our lives. At Scottish Bed and Breakfast, we already work to provide a relaxing escape from your work-a-day world. Expand upon this theme of relaxation and experience a unique facet of America's broad, cultural palette at the same time. Don't miss out!
This Special Offer Includes:
• Dinner at an Amish Farm
• After dinner buggy-ride
Pricing: $20 per person – $8.00 children 12 and under (gratuities are not included)
Advance reservations are required. (574) 220-6672
Tags: Amish buggy, authentic Amish dinner, Visiting Amish country