Unlike most foods, which we either really enjoy but shouldn't eat so much of, or dislike but should eat more of, the blueberry is both sweetly delicious *and* healthful. Perhaps that explains why this otherwise humble, little fruit is so celebrated.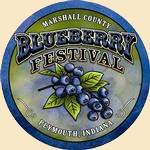 And how!
The Marshall County Blueberry Festival, just down the road in Plymouth, IN, is celebrating its 47th annual year this August and looks to be bigger and more exciting than ever!
Initially organized in 1966 as a Labor Day celebration to observe Indiana's sesquicentennial, the event was so successful that it was decided it should become an annual festival. As Marshall County provided one third of Indiana's blueberry crop at the time, the name seemed a no-brainer. Over time, the celebration has evolved into Indiana's largest, four-day festival, one of the Midwest's premier events, and has been named a "Top 100 Event" three times by the American Bus Association.
Even if you're not all that excited by blueberries, the festival is not to be missed. Plymouth comes alive with parades, fireworks, contests, food, and music of all kinds. Take the kids to the carnival for a fun-filled day of rides and family-fun; see the region from an amazing perspective by taking a helicopter ride; wince in amusement as contestants chew their way through to glory in the Blueberry Pie Eating Contest; thrill to the sounds of the event's musical headliner, Nashville's Jake Owen, and much, much more!
The Marshall County Blueberry Festival is a wonderful slice of hometown Americana at its finest – just like a slice of homemade blueberry pie: don't miss it!
A full schedule of events can be seen here www.blueberryfestival.org
The 47th Annual Blueberry Festival
Labor Day Weekend
August 30 – Sept. 2, 2013
Plymouth, Indiana
Tags: Indiana Blueberry Festival, Jake Owen, Marshall County Festival, near scottish bed and breakfast