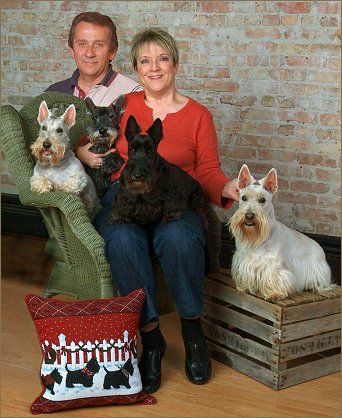 Homer and Brenda Miller met and married in 1995. Homer grew up Amish (he is no longer Amish) in Nappanee, Indiana and Brenda grew up in Flagler Beach, Florida. We met through the dating service "Together" and fell in like and love. Homer works for the U.S. Post Office as a mail carrier, we both work together to serve our guests and make their stay memorable. Brenda's past work experience was working for 16 years at the University of Notre Dame in the Computing Center, Alumni Association and Athletic Department. Brenda knew Lou Holtz personally and ask her about her role as an extra in the movie "Rudy" when it was film at Notre Dame. She also loves to show off her handmade "Notre Dame T-shirt" quilt to her guests.
We raise and show Scottish Terriers. That is where the name "Scottish Bed and Breakfast" came from. You will hear our beloved Mia and Vida greet you as you drive up the driveway. Throughout your stay, you may get a glimpse of one or both of them inside the B&B, as they are most of the time, confined to their own private areas sleeping the day away (what a wonderful life they have). Vida aka CH Woburn Barbary Iron Butterfly, became a Champion on May 22, 2016, at one year old. Sometimes there are Scottie puppies at the B&B. If you are a cat lover ask Brenda to see "Lilly" our fat cat who lives in her own area. She loves visitors. Brenda is the animal lover and Homer is the gardener.
In May 2003, we purchased this beautiful home and the same day we closed, Brenda was diagnosed with breast cancer. She spent the next six months fighting for her life, going through chemotherapy, losing her hair, surgeries and lots of doctor appointments. Brenda is now a thirteen year cancer survivor. The reason we turned our home into a B&B was Brenda and Homer realized life is short and Brenda wanted to do what gift God had given her, which is the gift of hospitality and the love and serving of people. Loving to cook and bake for our guests is a benefit too. So on September 3, 2004, Labor Day weekend, we opened as The Scottish Bed and Breakfast and was full our first weekend. We continue to love the people we meet and being Innkeepers providing some of the finest lodging in Indiana Country.
I hope we get an opportunity to meet you and please share "your story" with us. Our guests are such a blessing to us, and they become friends forever. We enjoy our guest's pets too.


Your Hosts