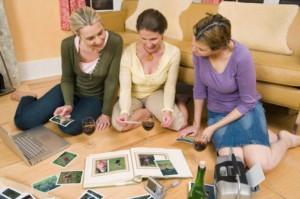 Get away with your friends and scrapbook/quilt the day (or night) away! A minimum two nights lodging is required. We supply the room (2000 sq. ft area with serving bar, kitchenette, lounge area, refrigerator, sink and microwave oven. ), 6 ft and 8 ft tables and chairs, bright lighting, and lots of electrical outlets.
"Pizza Party…On Us" (when you stay two nights) your first night, you can bring in your own food for lunch and dinner,  feel free to bring in your favorite snacks, beverages and goodies to share all night long for both nights. This is a great way to meet new friends  with something in common…scrapbooking!
Note: (pool use is not available for Scrapbooking Retreats)
Rate: $50.50 (with tax included) per lady, per night (includes lodging)
Minimum 6, maximum 16 Ladies, 2-4 in a guest room, if one (1) in a room $75 per night. All ladies must stay duration of the reserved dates.
Add optional massage (Certified Massage Therapist) for: $70-1 hour.